Andy Burnham's threat to stop housing asylum seekers in Greater Manchester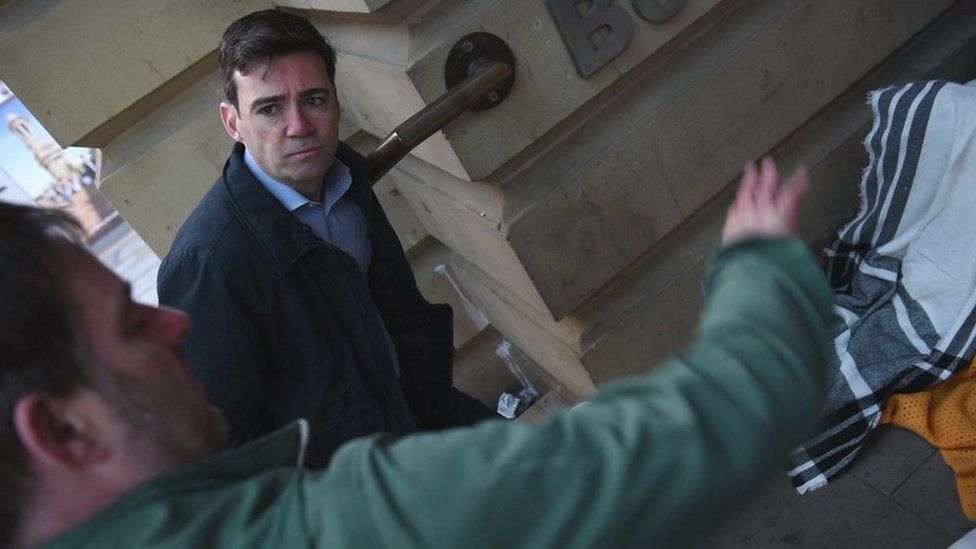 Greater Manchester Mayor Andy Burnham has threatened to block the region from housing any more asylum seekers.
He said there was "mounting chaos" in the government's dispersal system which was facing "catastrophic failure".
Mr Burnham said the region's public services cannot continue to support "disproportionate" numbers of people compared with elsewhere in the country.
The Home Office said it took the wellbeing and accommodating of asylum seekers "extremely seriously".
Mr Burnham has written to Home Secretary Sajid Javid demanding an urgent meeting over the issue.
He has accused the Home Office of showing "blatant disregard" to the issues the region is facing.
In his letter, he said that under the current system the north-west of England hosts 25% of the national population of asylum applicants who require housing and support - with Greater Manchester housing 70% of the region's numbers.
The latest figures show there are currently 6,681 supported asylum seekers in Greater Manchester - a 102% increase since 2003.
The mayor said demand for asylum accommodation had increased by 58% since April 2014.
The dispersal system places high numbers of asylum seekers in some of the country's poorest communities, largely due to the availability of cheap housing.
It means more than 180 local authorities across the country house no asylum seekers at all - including Prime Minister Theresa May's own local authority of Windsor and Maidenhead.
Describing Greater Manchester's compliance with the system as "voluntary", Mr Burnham writes: "It cannot be right that towns in Greater Manchester have more asylum seekers clustered in a handful of wards than entire regions in the rest of the country."
The mayor raised particular concern about the Home Office's new asylum contract, known as Asylum Accommodation Support Transformation, which will see a new contract replace the current asylum housing provider Serco next year.
In the letter, he adds: "We fear that the Home Office's approach risks the catastrophic failure of the new asylum dispersal contract due to go live next year."
A Home Office spokesman said it would respond to the letter "in due course" and added: "We take the wellbeing of asylum seekers and the local communities in which they live extremely seriously."
It said it worked closely with local authorities across the country "to deliver on our statutory obligation to house destitute asylum seekers whilst their asylum claims are determined".
"Officials are working closely with local partners across the North West to understand and address any concerns they may have," it added.
Related Internet Links
The BBC is not responsible for the content of external sites.