Greater Manchester mayor welcomes 'fairer' asylum pledge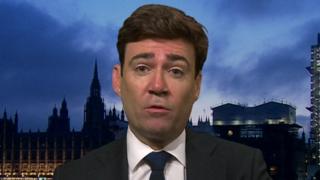 A government pledge to reduce the number of asylum seekers being sent to Greater Manchester has been welcomed by the city mayor.
Andy Burnham had threatened to block any further allocations saying the region was struggling to support a "disproportionate" number of people.
He wrote to the Home Secretary Sajid Javid demanding an urgent meeting over the "mounting chaos".
In reply, Mr Javid promised to work towards a fairer distribution.
Latest figures show the number of supported asylum seekers in Greater Manchester has doubled since 2003 to 6,681 with demand for asylum accommodation increasing by 58% since April 2014.
Under the current system, the North West of England hosts 25% of the national population of asylum applicants requiring housing and support - with Greater Manchester housing 70% of the region's numbers.
'Fleeing persecution'
In a letter dated 19 November, the home secretary said his officials would work with Mr Burnham on a "more equitable distribution of supported asylum seekers".
He said it was part of a wider intent for a "progressive reduction in the proportion of dispersal in higher volume areas".
However, he added that this rebalancing was "dependent on expanding the number of local authority areas willing to accept dispersal".
High numbers of asylum seekers are placed in some of the country's poorest communities, largely due to the availability of cheap housing, while more than 180 local authorities across the country house no asylum seekers at all.
Mr Burnham said he welcomed the government's "change of position" but said Mr Javid's "encouraging words" were only acceptable "if they are written into new contracts to make them binding".
"Greater Manchester has always welcomed people fleeing persecution and I don't want that to change.
"I'm... proud of that history... but we can't do it when the government is continually cutting the costs and not playing fair to the councils left to pick up the pieces of the extra support that people need."