Plan to replace Northwich college campus with homes criticised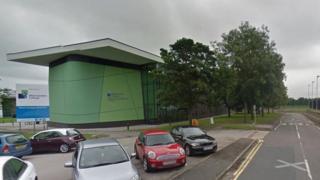 Plans to demolish a £10m college campus and build 108 homes in its place have been described as "outrageous".
The proposals, for Warrington and Vale Royal College's Hartford site in Northwich, Cheshire, were unveiled to councillors, with the public and press given no access.
The chairman of the college, which is working with a housing developer, said the campus was "financially unviable".
However, Labour councillor Sam Naylor said it was "an absolute travesty".
The Winnington and Castle ward councillor told the Local Democracy Reporting Service: "It seems that the people running the college are wanting to get Hartford off their backs as soon as possible, and they have obviously been working extremely hard in engaging developers."
More stories from the North West of England
Conservative councillor for Hartford and Greenbank Patricia Parkes said knocking the site down for more housing was "outrageous".
She said: "The arts block was brand new and cost millions, so we would like to see it passed on to Hartford Parish Council as a community asset.
"But the problem is that it is a brownfield site - Hartford's neighbourhood plan supports building on brownfield sites as opposed to in open countryside."
The college's chairman Mervyn Ward said the decision was taken collectively by the board after a review which found Hartford campus was "seriously under-utilised and financially unviable".
Mr Ward said "significant work" was done to market the college curriculum, but a decline in student numbers had slashed the site's income.
A Winsford campus five miles (8km) from Hartford would continue to offer a wide curriculum, he added.
The BBC understands a consultation on the plans will open on 29 November.