Stockport man, 84, killed wife with dementia as 'act of mercy'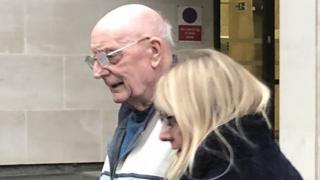 A elderly man who killed his ill wife in an "act of mercy" has been given a suspended sentence for manslaughter.
Lawrence Franks, 84, of Frances Road in Gatley, Stockport, admitted striking Patricia, who had severe dementia, with an iron pole as she sat in bed after she did not recognise him.
He then called 999 to confess, before phoning his niece to say he had put the 86-year-old "out of her misery".
He received a two-year suspended prison sentence at Manchester Crown Court.
The court heard Franks was unable to cope with the worsening condition of his wife, who had told him never to put her in a care home.
'Very sad case'
Vanessa Thomson, defending, said Mrs Franks had worked in the NHS for 30 years as a pharmacy assistant and had found the experiences of elderly people in the care system were "not positive".
"He knew he could no longer give her the adequate care she needed, but he also knew he could not put her in a care home where he felt she would be left to rot."
The court was told Franks struck his wife several times and then smothered her.
He pleaded guilty at an earlier hearing to manslaughter on the grounds of diminished responsibility after doctors ruled an "adjustment disorder" impaired his ability to make a rational judgment.
Sentencing him, Judge David Stockdale QC said it was a "very sad case" in which Franks had genuinely believed the "spur of the moment act" was "an act of mercy".
"You could not cope any longer and, as you saw it, you and she faced the inevitable prospect of her removal into a care home," he said.
"The very last thing either of you wanted to happen."
Franks, a former bus driver and lifeguard, was also ordered to undergo a 20-day rehabilitation activity course.