Suffragette's force-feeding note on display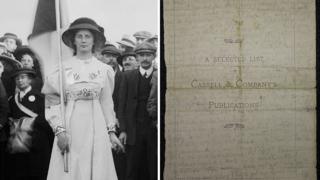 A defiant letter by a suffragette about being force-fed during a prison hunger strike has gone on display
The "barely decipherable" note was penned by Charlotte Marsh, one of the first prisoners to be force-fed in the campaign for women's right to vote.
Writing to a fellow suffragette, she notes: "Won't it seem funny to eat again? Sometimes I am ravenous, aren't you?"
The letter has gone on show at the People's History Museum in Manchester.
It was written to Selina Martin - described by the museum as a "working class suffragette" from Ulverston - in 1909, when both campaigners were jailed at Winson Green prison, Birmingham.
They had been arrested along with six other women for protesting about the visit of then Prime Minister Herbert Asquith to the city.
Writing in pencil on a title page torn from a book, Ms Marsh relates: "Matron comes every day to try and get me to eat but no - she can chase me around my cell!"
---
Extracts from Charlotte Marsh's letter
"Here is my diary up to date. Sept 22nd to 25th Hunger strike. 25th to 28th Eat by force through spout. 29th to Oct 5th Fed ordinarily. Oct 5th to 8th/ 2nd Hunger strike. Oct 8th onwards fed by tube twice daily."
"Do you mind sending a pic to my mother . . . But do not mention how I am being fed."
"I heard of someone who smuggled a note in a sanitary towel!! I do hope our other women have not got long sentences."
"Write to me when I come out. No surrender!"
---
The letter was found when Ms Martin's grandson, Phillip Sycamore loaned some of her personal memorabilia to the museum.
She was jailed three times, refusing to eat on each occasion as part of her protest.
During her imprisonment in Liverpool in 1909, she was beaten, force-fed and left to freeze in her cell.
Helen Antrobus, programme officer at People's History Museum, said: "Their aim was to be treated as political offenders, and, at this time, they wouldn't have known how historically notorious force-feeding was to become."
Jenny Mabbott, head of collections, added it was "wonderful" to reveal previously unheard voices as part of events to mark the 100th anniversary of the Representation of the People Act 1918, which gave some British women the right to vote.