Pupils and staff tested for TB at Withington school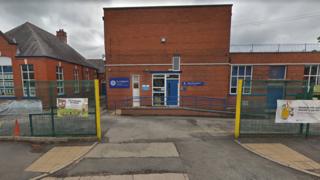 Pupils and staff at a primary school are being tested for tuberculosis after confirmation one person had contracted the disease.
Public Health England (PHE) has said it is "working closely with" St Cuthbert's Primary School in Withington, Manchester.
Head teacher Mylene Maguire said the school was open as normal.
Precautionary TB screenings for pupils took place last week and staff will also be screened, Ms Maguire added.
Tuberculosis, which can cause fever and coughing, is easily treated with antibiotics.
PHE said the person with TB was responding well to specialist treatment.
Ms Maguire said: "We're following the expert advice of health professionals at PHE who are leading on this.
"A programme of screening for all pupils took place last week as a precautionary measure and staff are also being screened.
"This was overseen by PHE who have been in direct contact with parents throughout the process. They will also oversee any follow-ups should this be necessary."
TB symptoms
TB symptoms include persistent coughing, weight loss and tiredness
Two billion people worldwide are thought to have latent TB infection, but many will never develop active TB unless their immune system is compromised
TB patients must take antibiotics daily for six months
Those with drug-resistant strains are prescribed an average of 19 pills a day - 14,000 altogether
The illness can cause nerve damage, kidney and liver impairment, and loss of sight or hearing
PHE said it was "working closely with the school, and screening has been arranged for those who have had prolonged contact with the case".
"Letters have been sent to students and staff to explain the situation with further advice and information about TB."
Dr Merav Kliner, consultant at the Greater Manchester Health Protection team, said: "The risk to other contacts, including those in a school or workplace setting, is low.
"However, purely as a precautionary measure, we are working closely with the school to arrange screening for close contacts in line with national guidelines."