Manchester Arena attack memorial 'should be a tranquil space'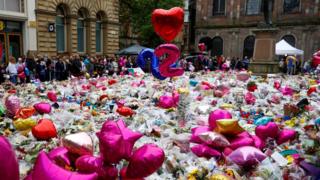 Survivors and relatives of those who died in the Manchester Arena bomb would like a "tranquil" space to be created in the city as a memorial, initial feedback to the council has suggested.
An advisory group will liaise with those most affected by the 22 May 2017 blast, which claimed 22 lives, on what exact form the memorial should take.
One idea is for a garden-style setting.
A public consultation will also help ensure "we get it right", says advisory group chairman Malcolm Press.
No plans on the memorial's location, form or specific design will be considered until the consultation about the "principles underpinning the memorial, or memorials" is completed.
"Manchester will never forget the terrible events of 22 May 2017," said Mr Press. "We are determined to ensure a fitting and enduring memorial.
"While the whole city was touched by events, and everyone will have their own personal experience, we know people will understand that the views of those most closely affected by the attack have to be paramount."
A memorial fund has been set up to help pay for the tribute.
People can take part in the memorial consultation online before Monday 17 December.