Heywood cat Simba gets 'well and truly stuck' between houses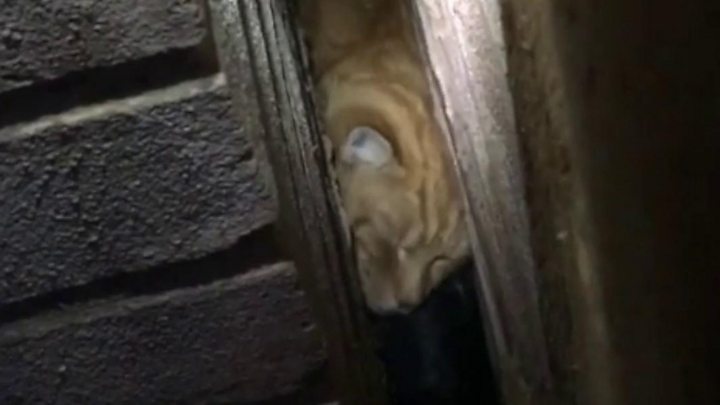 A cat which got "well and truly stuck" in a narrow gap between two houses has been rescued by firefighters.
The ginger tabby, named Simba, became wedged in a space a few inches wide between two walls on Hartford Avenue in Heywood, Rochdale, the RSPCA said.
A spokeswoman said the cat was heard "crying in distress", but the charity's inspectors were unable to reach it.
However, firefighters removed bricks from the walls and, with a "burst of adrenaline", Simba was freed, she said.
More stories from the North West of England
Animal collection officer Emma Pollard, who was sent to help in the rescue on 8 November, said she had "feared we wouldn't be able to free" the cat.
"It's great when a rescue like this has a happy ending and we are able to reunite a much-loved pet with their owner," she said.
Owner Sania Anwar said Simba had been given the "all-clear" by vets and was "absolutely fine now".
"He's back out exploring as normal again, but hopefully he won't get into any more trouble," she added.