Winter Hill: First trees to be planted at moorland blaze site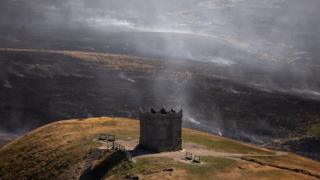 More than 5,500 trees are to be planted to help revitalise the site of a huge moorland fire that burned for 41 days during the hot and dry summer.
The blaze at Winter Hill in Lancashire broke out in June and ripped through 7 sq miles (18 sq km) of land.
The fire burned thousands of trees and plants and many animal species such as hares and common lizards died or left.
The Woodland Trust, which owns a large part of the land, said it will plant new trees with the help of volunteers.
The site's manager Chris Waterfield said the project would help the land recover from a "troubled summer".
Two people were arrested on suspicion of arson but nobody has yet been charged.
The flames damaged heather moorland, grassland and woodland, which were home to rare plants and animals such as the short-eared owl and lapwing, the trust said.
The charity said 85% of the area showed signs of "natural regeneration" as grasses and bracken begin to emerge again, but 15% remained "bare charred earth".
The full effect on wildlife would only be known after the next breeding season, it said.
Local residents and community groups will be invited to plant the new trees.
The recovery plan also included watering the land, creating fire breaks, and monitoring changes at the site, the charity said.
The Woodland Trust bought the site, known as the Smithills Estate, in 2015 with a plan to double the tree cover over five years.
At 1,700 acres (690 hectares), it is the largest area owned by the trust in England.