Man who drove at group in 'drink-fuelled rage' killed his friend, court hears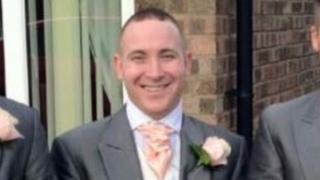 A man killed his friend when he drove a car into a crowd in a "drink-fuelled rage" outside a club, a court heard.
Nathan Marshall, 30, died after being struck outside the Salisbury Club in Truro Avenue, Stockport, on 27 May.
Jonathan Snape, 30, was allegedly aiming for another man with whom he had fought earlier in the night, Minshull Street Crown Court heard.
Mr Snape, of Yew Tree Lane, Manchester, denies murder, attempted murder and wounding with intent.
He earlier pleaded guilty to inflicting grievous bodily harm, assault occasioning actual bodily harm and dangerous driving.
'Horrific'
The jury heard that after an earlier fight with another man, Aaron Baker, Mr Snape drove an Audi at a group of people in an attempt to kill him.
But Mr Marshall, from Reddish, who was among the group, fell beneath the car and was dragged for some distance. He was fatally injured.
Landlady of the Salisbury Club, Gaynor Ashton, who witnessed Mr Marshall's death, said it was "horrific".
Defence barrister Martin Heslop QC put it to her that she was struggling with her recollection of events.
"I watched a man die before my eyes", she said.
Mr Heslop asked whether she was struggling to process the facts.
She replied: "I was able to process Nathan Marshall had been hit by the car. I tried to save his life."
Pressed again on whether panic had clouded her memory, Ms Ashton replied "No".
Mr Snape is said to have returned a short time later to pick up Mr Marshall but was begged to stop by those helping his wounded friend and drove away again, the court was told.
The car was found abandoned on the M60 the following day after Mr Snape handed himself in to police.
The trial is due to last for three weeks.