Ashton-under-Lyne cashless parking system 'discriminatory'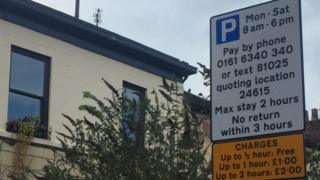 A council has been criticised over a cashless parking system which traders say discriminates against older people.
New rules in Ashton-under-Lyne require motorists to call, text or download a smartphone app to pay for parking.
Tameside Council said the introduction of 150 cashless bays was a success, but has suspended the system and cancelled fines while it makes signs clearer.
However, shopkeepers say many customers do not use phones and a fall in visitors is threatening trade.
The cashless parking system was introduced in 20 locations including Stamford Street, the town's main shopping parade, on 15 November.
Drivers are required to pay by text, phone or app, even if they want to park without charge for fewer than 30 minutes.
John Bowers, who owns Muldoon & Tonge Opticians, said: "It discriminates against the elderly and people who don't have phones."
Tracey O'Brien of Carls Craft Cabin said takings were down by 50% and she feared her business could close within six months.
Charlie Hand, who owns Thyme to Eat cafe, said the town centre was already struggling to compete with Manchester city centre and a variety of retail parks.
"People aren't going to pop in for a sandwich if they have to get out an app and register their car," he added.
Tameside opposition councillor Liam Billington said he was not opposed to cashless parking but said there must be an alternative method of payment for those who did not own a mobile phone.
A Tameside Council spokesman said it would contact all drivers issued with parking tickets last weekend to inform them the fines were cancelled.
He added: "The system is still in place and people should continue to use it. Enforcement will be back be back up and running as soon as we are satisfied with the signage."