Anthony Grainger shooting: No charges for retired police chief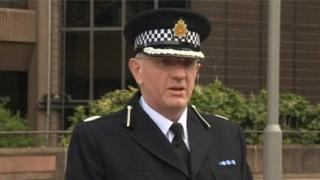 A retired senior policeman will not face criminal charges over his evidence to an inquiry into the shooting of an unarmed man.
Prosecutors said there was not enough evidence to charge former Assistant Chief Constable Steven Heywood with perverting the course of justice and misconduct in public office.
He will face a gross misconduct hearing held by Greater Manchester Police.
Mr Heywood authorised the operation in which Anthony Grainger died in 2012.
Mr Grainger, 36, from Bolton, Greater Manchester, was shot by a firearms officer through the windscreen of a stolen Audi in a car park in Culcheth, Cheshire, on 3 March 2012.
Police believed he was planning an armed robbery.
In May, the Independent Office for Police Conduct (IOPC) passed a filed of evidence to the Crown Prosecution Service (CPS) which considered whether Mr Heywood could be charged with two offences.
Announcing its decision, the CPS said it had "decided that the case failed to meet the evidential test".
"All parties have been informed."
The IOPC said it believed Mr Heywood - who retired from the force in October 2018 - has "a case to answer for gross misconduct".
A spokesman said: "GMP agreed with this but a date for a misconduct hearing has not yet been set."
Mr Heywood was investigated over evidence he gave to an inquiry chaired by Judge Thomas Teague QC in March 2017 about the way he recorded information in a police firearms logbook.
The inquiry heard it was likely some of the notes had been written after the shooting, leading to claims they gave a "false impression" of intelligence.
Mr Heywood admitted to the inquiry there were "some flaws" in his record-keeping and "apologised unreservedly" for them.
Mr Grainger's widow, Gail, said she was "disgusted..., shocked but sadly not surprised" by the decision.
She said he "needs to be facing criminal charges for his deliberate actions" and the misconduct hearing was "not a legitimate punishment" because "he's already retired so he can't be sacked".
"I'm completely disheartened at the way the system is set up to fail.
"There is no justice, no punishment, and therefore no deterrent", she said.
The IOPC - and its predecessor the Independent Police Complaints Commission (IPCC) - has held three investigations into the death of Mr Grainger and two separate investigations into evidence given by Mr Heywood and Det Ch Insp Robert Cousen.
No further action was taken by the IOPC against Det Ch Insp Cousen.
The findings of a public inquiry into Mr Grainger's death are unlikely to be published before the end of this year, said the IOPC.