Man jailed over Salford hammer attack on firefighters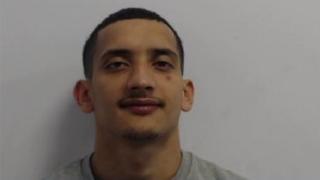 A man who attacked firefighters with a hammer as they responded to concerns about his safety has been jailed.
Haman Rihan launched the attack in Salford on 1 October as the crew responded to concerns about an unresponsive man in a car.
The 24-year-old abused the firefighters before smashing equipment with a hammer, Manchester Crown Court heard.
Rihan, of City Road, Old Trafford, was jailed for three years after admitting the attack.
The court heard he caused thousands of pounds in damage to a fire engine by smashing windows, and also damaged life-saving medical equipment which had been prepared by the firefighters for his safety.
He was jailed as a new study revealed emergency workers in north-west England have experienced a rise in violent attacks.
There were 1,249 "violent or aggressive incidents" against ambulance staff in the region during the 2017-18 financial year, according to a new study led by the North West Ambulance Service.
Of those, 94 involved threats with knives, 32 were racist abuse and 47 were sexual assaults.
The number of incidents has steadily risen over the last five years, from 939 in 2013-14.
A new campaign to highlight threats faced by police, firefighters and paramedics has been launched in Greater Manchester.
NWAS chief executive Mick Forest said attacks can mean crews are taken off the road and ultimately made unavailable to deal with emergencies.
He added: "One of my worst fears is that I am going to be woken in the night to be informed of the death or life changing injury of a colleague because of an assault.
"I cannot imagine what it must be like to have to manage a situation like that and I sincerely hope I never have to."
Tougher sentences designed to offer greater protection to emergency workers were introduced earlier this year under the Assaults on Emergency Workers (Offences) Act.
On Tuesday a man from Wigan became one of the first in the UK to be successfully prosecuted under the legislation.
Daniel Hilton, 29, was jailed for 12 weeks by magistrates in Manchester after biting a policeman on the leg as he attempted to restrain him in Leigh.
Ass Ch Con Annette Anderson, of Greater Manchester Police, said: "Being attacked when you are simply trying to do your job is something no-one should have to face, but being targeted while you are coming to the rescue of others is nothing short of inexcusable.
"We will do everything in our power with the newly welcomed legislation to protect the protectors."