Would-be Manchester bank raiders target fake vault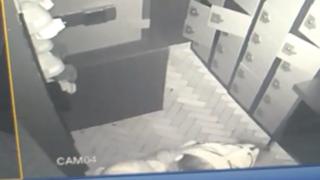 Two would-be bank raiders broke into an escape room containing an imitation bank vault.
The men were captured on CCTV forcing entry into the building in Ancoats, Manchester, before fleeing with £1,000 in cash.
Lucardo escape rooms director Adam Conroy said no one was hurt "except for our Christmas spirit".
It is not known if the men realised they had not targeted a genuine bank during the 03:00 GMT raid.
The men unsuccessfully attempted to break into a safe which the business uses as part of pretend bank heists.
Mr Conroy said the property was empty at the time.
He added: "I don't think they realised what they'd broken into. It doesn't say a lot about their intelligence.
"What they didn't realise was all the clues to get into the safe are in the room they were in."
The men left behind an expensive camera as well as an empty soft-drink can, which police later tested for fingerprints and DNA, Mr Conroy said.
CCTV shows one of the men wearing a mask on top of his head, although his face is clearly visible.
Despite taking the cash, the burglars failed to get their hands on a large imitation diamond kept inside the safe, Mr Conroy said.
"They must have thought all their Christmases had come early. They'd broken into a bank no-one had heard of."
Greater Manchester Police confirmed they were investigating the incident.