Proton beam cancer treatment starting at Christie hospital this month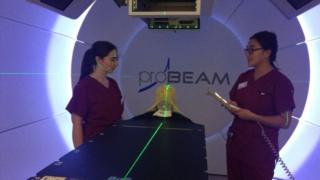 A pioneering therapy to treat cancer will be used for the first time at an English hospital before Christmas.
The proton beam therapy, which targets tumours more precisely than current treatments, will be given at Manchester's The Christie.
It will also be offered at London's University College Hospital from 2020.
Jane Howarth, whose daughter was treated in the US, said having UK therapy centres would "make such a tremendous difference to patients".
National cancer director Cally Palmer said having the first patient treated in England would "mark a major milestone for the NHS".
High-energy proton beam therapy is a specialist form of radiotherapy that targets certain cancers more accurately than other treatments, increasing success rates and reducing side-effects.
Currently, the NHS has to send patients who need the therapy to clinics in Germany or the US.
As the treatment is particularly appropriate for children, who are at risk of lasting damage to organs that are still growing, that can mean families facing huge upheavals.
Mrs Howarth, from Rochdale, said while she was "grateful" for the treatment of her daughter Molly, it "wasn't an easy experience".
"It was very strange to be uprooted from your home and wider family at just the time when you need support," she said.
"Having a centre here in the UK will make such a tremendous difference to patients."
What is proton beam therapy?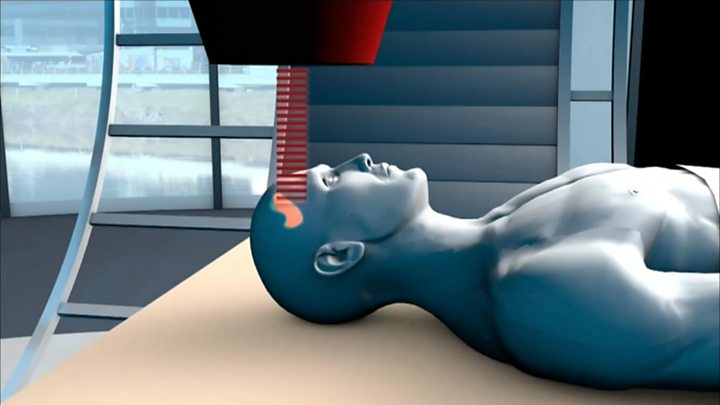 The therapy uses charged particles instead of X-rays to deliver radiotherapy for cancer patients.
It allows high-energy protons to be targeted directly at a tumour, reducing the dose to surrounding tissues and organs.
In general, patients suffer fewer side-effects compared to high-energy X-ray treatments.
It can be used to treat spinal cord tumours; sarcomas near the spine or brain; prostate, lung and liver cancer; and some children's cancers.
Sources: NHS England, Cancer Research UK
The Christie aim to treat up to 750 patients a year.
The hospital's chief executive Roger Spencer said patients would "benefit hugely from having the service available in Manchester".
He added that having the treatment "closer for them and their families" would mean "less upheaval during what is undoubtedly an extremely stressful time in their lives".