Girl, 16, found dead in derelict Salford house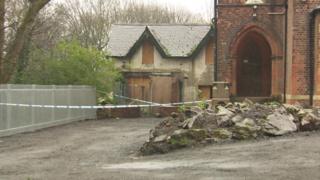 A 16-year-old girl has been found dead in a derelict house in Salford.
Sarah Goldman's body was discovered at 09:45 GMT on Monday in a disused building near Brookside Drive, Kersal.
Sarah had been reported missing only 20 minutes earlier from her home in Prestwich, Bury. A 41-year-old man was arrested on suspicion of her murder and later bailed.
The chairman of Sarah's school governors, Joshua Rowe, described her as "lovely" and bright".
Mr Rowe said she would be "hugely missed" at King David High School.
He added: "Sarah was a lovely, bright, intelligent and well-mannered pupil and she will be hugely missed by everyone at school".
The cause of her death is yet to be established.
Supt Caroline Hemmingway, of Greater Manchester Police, said: "We are currently investigating the tragic death of a 16-year-old girl in Kersal, and it is our top priority to find out exactly how she died."
She added that police "are still keeping an open mind and will be exploring all avenues."