Fire rips through businesses in Old Trafford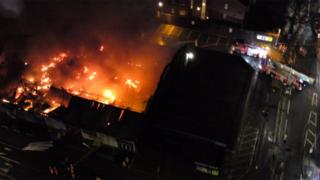 Fifty firefighters fought a major blaze that ripped through several businesses.
Crews said they found Dave's Carpet Warehouse, a garage and a car parts firm well alight in Darnley Street, Old Trafford, Manchester, at 05:00 GMT.
About 45 residents have been evacuated from their houses, including a neighbouring care home, and there is thick smoke from tyres in the garage, the fire service said.
The fire is not thought to be suspicious and is now under control.
Two gas cylinders have been found inside the garage and firefighters are also working to keep these cool, Manchester Fire and Rescue said.
Dave Todd, who has owned the warehouse for 20 years, said the blaze was "a shock to the system" and he was "devastated".
He said: "I got a phone call from one of my employees saying there was a fire in the building, I came down straight away and saw that the whole block was ablaze.
Mr Todd, who employs four full-time staff and six teams of carpet fitters, added: "After all the years of work I've put into it, at this stage I'm right down at rock bottom, but we'll have to see what happens and move on from here."
Iqbal Khan, who owns the car parts firm, said it was a "really horrible experience seeing your business burn".
He said it would take "months to get it back, it's going to be a lot of work".
Crews are expected to remain on the scene into the evening.
Road closures are in place from Kings Road at the junction of Upper Chorlton Road to Upper Chorlton Road at the junction of Moss Lane West.
People are being asked to avoid the area and nearby residents should keep their windows and doors shut.
Incident Commander Paul Duggan said: "I know this has caused disruption to people living nearby and road users and I would like to apologise for this but assure people we are working hard to get roads opened and people back into their homes as soon as we can."