Hale Barns stabbing: Yousef Makki, 17, 'said he'd be home for tea'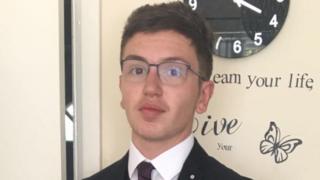 A teenager phoned home hours before he was fatally stabbed to say he would return for tea, his parents said.
Yousef Makki, 17 and from Burnage, was stabbed in Gorse Bank Road, Hale Barns, near Altrincham, on Saturday.
His "devastated" parents said: "The next knock at the door [was] officers with the tragic news... it is every parent's worst nightmare."
Manchester Grammar School which he attended described Yousef as a "dearly loved, incredibly bright pupil".
Two boys, also aged 17, have been arrested on suspicion of murder and remain in police custody.
A spokeswoman said at 18:00 GMT on Monday that officers had been given an extra 24 hours in which to question them.
In a statement, Yousef's parents said he was a "loving and caring son and brother" and "loved by everyone".
"We cannot believe that our son has gone," they said.
"Only recently had we talked about his promising life ahead of him and how he was looking forward to life."
His parents appealed for anyone with information to contact the police "to help us find out what happened on Saturday evening".
Manchester Grammar School said there had been an "outpouring of grief... at this tragic loss".
Flowers have been placed outside the school where Yousef was studying four A-levels and the school has had two minutes of silence in remembrance of the teenager who hoped to pursue a career in medicine.
Dr Martin Boulton, high master at Manchester Grammar School, an independent school founded in 1515, said in a statement: "It is impossible to make sense of such a senseless act, which has taken away a proud family's son, a dear friend and a young man of such promise."
A crowdfunding appeal to raise money for Yousef's funeral has already raised more than £14,000.
Writing on the GoFundMe page, Kathy Hughes, who taught the teenager at primary school, said she had "fond memories" of him and he was a "bright, caring and considerate boy".
Neighbours have also spoken of their shock at Yousef's death.
Anne Heffernan said Yousef was a "lovely lad" who would always help her with her bags "with me being old and a bit disabled".
Another neighbour - who wanted to be known only as Bernard - told the BBC that Yousef was a "polite... quiet boy from a respectable family" and "one of the nicest lads you could ever see".
"Hale Barns in a nice area - you wouldn't expect it in that sort of area."
Eyewitness Paul Hughes told the BBC he tried to help Yousef.
"We had to lay him on the road so he was flat, got him into the recovery position." he said.
"Mike cradled his head. We just tried to do the best for him that we could. Unfortunately it wasn't enough."
Stop and search
Det Ch Insp Colin Larkin of Greater Manchester Police said: "The last couple of days have been absolutely devastating for Yousef's family - something no mother or father should ever have to live through."
He urged anyone with information to contact the force.
"We know there were vehicles in the area around the time of the fateful incident. Did you see something?" he said.
"Please send us your dashcam footage and any information you have as soon as possible. Don't do it for me, do it for his family who tonight, and every night from now on, will have to go to sleep knowing they'll never see Yousef again."
Following Yousef's death Greater Manchester mayor Andy Burnham said a "culture change" is needed to tackle knife crime, saying options such as stop and search, a knife amnesty and tougher penalties for people carrying a knife should all be considered.
The fatal stabbing came a day after a 17-year-old girl, Jodie Chesney, was killed in a knife attack in a London park.
Home Secretary Sajid Javid is to meet police chiefs this week to discuss the issue of knife crime.