Pankhurst Centre: Intruder found asleep in suffragette museum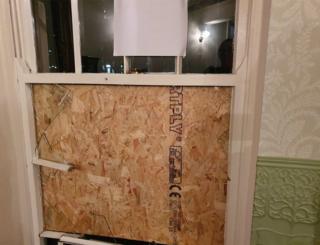 An intruder who broke into the former home of suffragette leader Emmeline Pankhurst was found asleep on bean-bags, a charity has said.
The man was discovered inside Manchester's Pankhurst Centre museum at about 02:00 BST following reports of vandalism.
Museum boss Gail Heath said she arrived to find the building's "beautiful Georgian windows" had been "kicked in".
Repairs to the site, which also offers services for vulnerable women, are set to cost £15,000.
Sash windows, soft furnishings and suffragette costumes were damaged during Tuesday's break-in, said Ms Heath, who estimated the cost of the damage at about £15,000.
She said she was called to the museum in the early hours.
"When I arrive I can see that someone's kicked in our beautiful Georgian windows and when I open the museum door I find someone fast asleep on the bean-bags in the museum," she said.
Security had already been stepped up after a previous break-in just a few days before.
"We don't think much has been taken because of the initial intruders we'd moved some of our most precious stuff out of the way but quite a bit's been damaged," Ms Heath said.
"The fact that the intruder may well have just been looking for some shelter, maybe he was a person without a home, makes this even more difficult for us because that's sad in itself," she added.
Emmeline Pankhurst founded the Women's Social and Political Union - later becoming known as the suffragettes - at the building at 60-62 Nelson Street in 1903.
Ms Heath said the break-in happened before a series of events to mark the anniversary of founding of the suffragette movement on 10 October.
The centre is also home to Manchester Women's Aid.
A statue of Emmeline Pankhurst was unveiled in Manchester in December to mark a century since British women first voted in a general election.