Manchester Arena Inquiry: Parents tell victims' 'love story'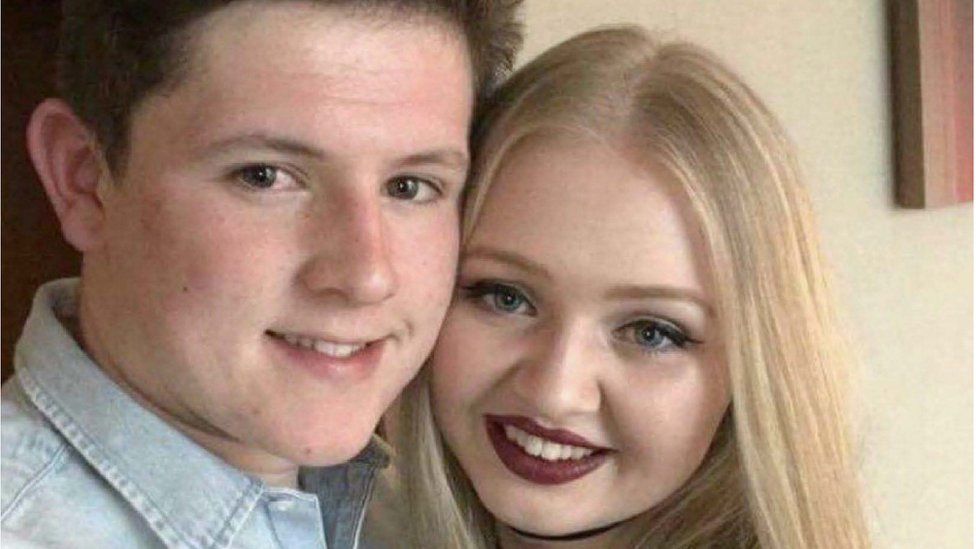 The parents of a young couple killed in the Manchester arena bomb attack told a public inquiry "they wanted to be together forever and now they are".
The couple from South Shields were "two beautiful, young people with so much love in their hearts", they said.
Twenty-two people were killed in the bombing at an Ariana Grande concert in May 2017.
Families are presenting "pen portraits" to the inquiry to give an insight into the lives of those who died.
A slideshow of photographs documenting Liam and Chloe's lives were also shown on screen at the hearing at Manchester Magistrates' Court.
Liam's mother Caroline Curry spoke of the 19-year-old being a "fine cricket player" and an avid cyclist who also loved to ski.
"Chloe and Liam were made for each other - just completely at their best when they were together," she said.
Chloe's father Mark Rutherford said his daughter was "a very beautiful young lady with her life ahead of her".
"A real English rose, with blonde hair and the most amazing blue eyes and a smile that could light up a room and bring the sunshine out," he said.
Her "secret passion" was writing music, he added.
Ms Curry explained that Liam's dad Andrew had died eight weeks before the bombing.
She said Liam's death had caused "unbearable pain which has no ending, no relief, no break, no calm".
Chloe's mother Lisa Rutherford asked: "How do we make the world turn again? How do we mend our shattered lives? The truth is we can't."
Mr Mullen told the inquiry Philip was "different, family-loving, thoughtful, caring, with a recognisable smile and a cheeky grin".
The inquiry heard Philip "made everyone laugh" and had lots of friends.
His uncle described how the family was left with an "empty, hollow feeling" knowing they would "never enjoy the camaraderie" again.
"Heaven has a new Geordie ambassador, waiting to greet you and he may get you a pint, but it'll be your round," he said.
Earlier the father of Georgina Callander told the inquiry his daughter had an "unmistakable laugh" and a "heart as big as the moon".
Simon Callander said his life was "unrecognisable" since Georgina's death and a "black cloud follows him".
She was as "bright as a button", he added, and enjoyed art, taekwondo, swimming, ballet and football, made lots of friends and was "always laughing".
She had passed all her exams with distinction, which felt like another "dagger to the heart" because of "all that potential snatched away," he said.
"[Georgina] changed my life and I'll never get over losing her," he said.
The inquiry was set up to examine the background to the attack and the response of the emergency services.
Chairman Sir John Saunders will make a report and recommendations once all the evidence has been heard, which is expected to take up to six months.
Related Internet Links
The BBC is not responsible for the content of external sites.