Covid-19: Fines being 'factored in wedding costs'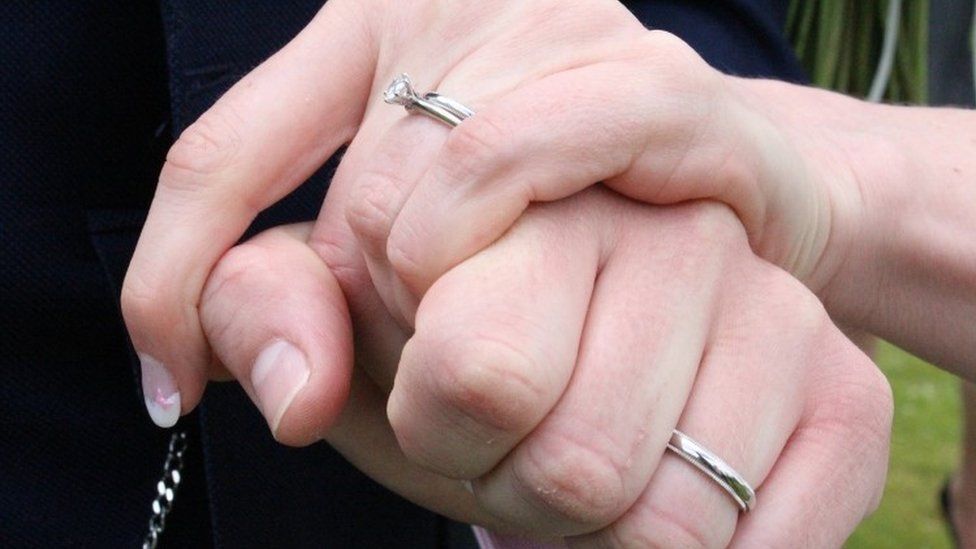 Couples may be "factoring in" fines for breaching Covid-19 rules as a wedding "cost" in Greater Manchester, says the deputy mayor in charge of policing.
Weddings "increasingly feature" in the list of police call-outs to illegal gatherings which is rising by the week, Baroness Beverley Hughes said.
Last weekend, Greater Manchester Police (GMP) issued 85 fixed penalty notices including a wedding in Stockport.
GMP officers have broken up several marriage celebrations contravening government restrictions, including one in Stockport last weekend that had about 60 guests.
Last month, GMP issued fines after 100 people were found at a wedding party in Bolton and also said it prevented a wedding party going ahead in a garden in Wythenshawe before it breached restrictions.
A venue that held a wedding reception with about 70 guests in Longsight last month was closed and fined £10,000.
"Weddings increasingly feature [amongst illegal gatherings] and I don't know of people who had to put off their wedding in the spring now feel that they've got to get on with it," said Baroness Hughes.
"But it feels as if the fines that people will get are now being factored in as a cost people will bear in order to go ahead with their weddings."
She also said some funerals have become so large they have "required their own police operations".
A woman in Bolton was handed her fourth fixed penalty notices for breaching Covid-19 rules by having another "very large party" in her house this weekend.
The deputy mayor said this has added to "ongoing" resource issues within the force, which is spending up to £100,000 on special operations every weekend.
Related Internet Links
The BBC is not responsible for the content of external sites.