TikTok level crossing stunt 'staggeringly stupid'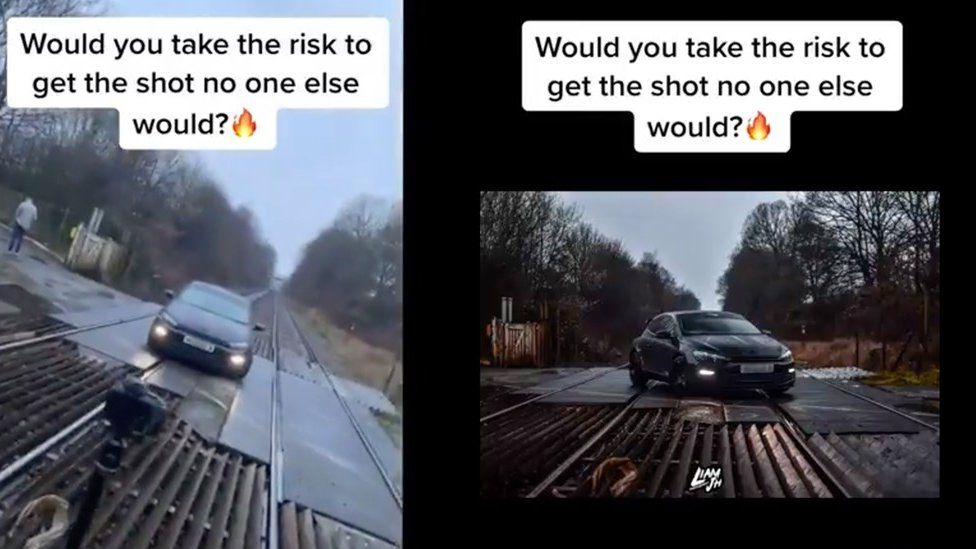 A TikTok stunt featuring a car parked on a level crossing has been branded "staggeringly stupid".
The "reckless" social media post, recorded on the line at Bromley Cross, Bolton, showed a camera and tripod set up on the railway to record the scene.
An accompanying caption asked viewers: "Would you take the risk to get the shot no-one else would?"
Insp Becky Warren, from British Transport Police, said: "No picture or video is worth risking your life for."
Network Rail, which reported the footage after it appeared on the video-sharing app, blasted the "staggeringly stupid and dangerous" clip.
It issued a reminder that trespassing on railway lines is against the law.
North West route director Phil James said using the tracks "as a backdrop for a photo shoot beggars belief".
"Lives could so easily have been lost by this reckless behaviour," he said.
Insp Warren added: "There is simply no excuse for not following safety procedures at level crossings. The behaviour shown by the individuals in this video is incredibly dangerous and reckless."
Last year, Network Rail and British Transport Police launched a You vs. Train campaign to highlight the issue of young people trespassing.
Related Internet Links
The BBC is not responsible for the content of external sites.