Manchester attack: Prisoner in touch with bomber recalled to jail
By Daniel De Simone
BBC News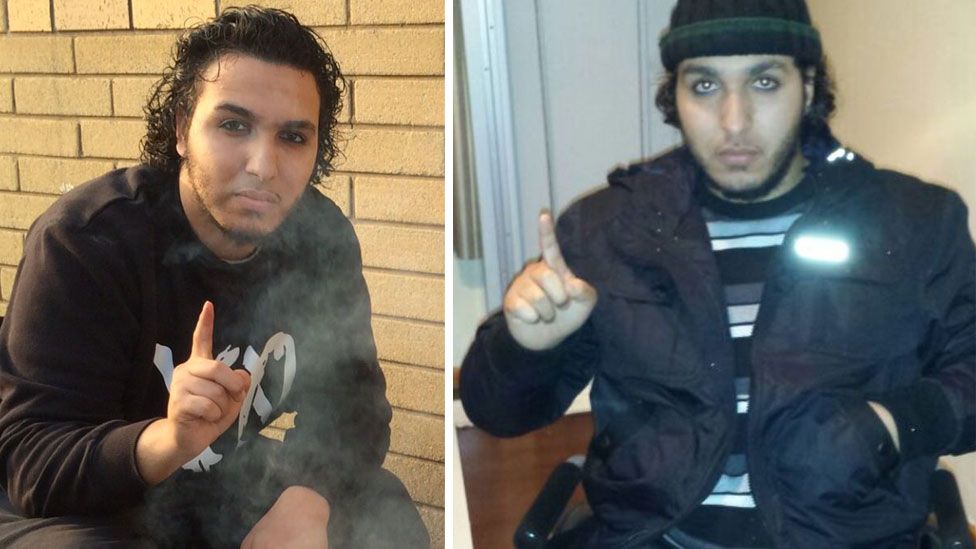 A convicted terrorist organiser and friend of the Manchester Arena bomber has been returned to prison weeks after being released on licence, the BBC has learned.
Abdalraouf Abdallah, 27, was jailed in 2016 after being found guilty of helping people travel to Syria to join the Islamic State group.
It is now understood he was returned to a high-security prison on Tuesday.
While living at an approved premises he received a number of warnings relating to his conduct, resulting in a breach of a general condition requiring good behaviour, the BBC has been told.
A source said the breach was not terrorist-related.
When Abdallah was released, a source said his licence conditions would be among the strictest ever imposed on a released prisoner.
A public inquiry into the Manchester Arena attack heard Abdallah was in touch with bomber Salman Abedi in the months leading up to the attack.
But he has refused to assist the inquiry despite being regarded as an important witness.
In July 2016, Abdallah was jailed for five and a half years, but time spent on remand and on curfew at home meant that his period in custody automatically expired in late November.
He was due to spend a further four years out on licence, but breached his conditions after only seven weeks.
He will now remain in prison for this four year period unless the Parole Board decides he is safe to be released beforehand.
The Manchester Arena Inquiry - which is examining all aspects of the suicide attack that killed 22 people in May 2017 - has heard that Abdallah is a "witness with important evidence to give".
But the hearing has been told he has refused to cooperate or answer questions in case he incriminates himself.
Abdallah, who grew up in Manchester, was paralysed from the waist down while fighting in the Libyan revolution of 2011.
His trial heard that, from his wheelchair and mainly using a mobile phone, he arranged for the movement of money and fighters to Syria.
When Abdallah was first arrested in 2014, his phone contained correspondence with Abedi about suicide and martyrdom, including the death of a senior al-Qaeda figure.
Abedi then visited Abdallah in prison and communicated with him on an illegally held mobile phone during the period in early 2017 when the bomb was being prepared.
The prison authorities confiscated Abdallah's phone before the attack. When analysed, it was found to have made calls and attempted calls to Abedi's number.
The inquiry has heard the relationship between Abdallah and Abedi is considered to have been of "some significance in the period prior to the bombing".
Lawyers for some of the bereaved families have said a "failure to recognise the association between Salman Abedi and Abdalraouf Abdallah was a real missed opportunity".
A Probation Service spokesman said: "Protecting the public is our number one priority so when offenders breach the conditions of their release and potentially pose an increased risk we don't hesitate to return them to custody."