Covid: Oldham school to withdraw places for lockdown-breach pupils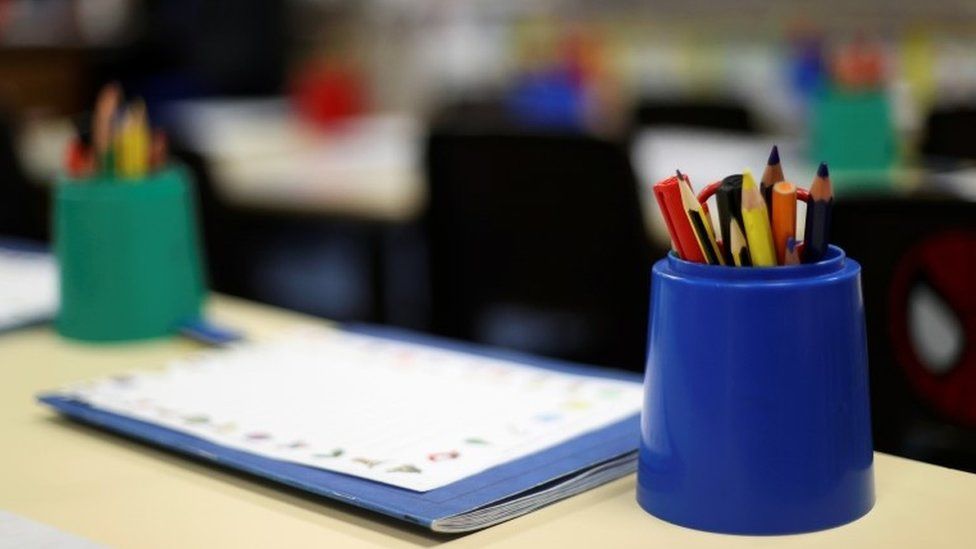 A school has threatened to withdraw places for pupils who have told teachers they are visiting people outside their households.
Yew Tree Community School in Oldham said several children had admitted visiting friends, neighbours and family contrary to Covid-19 lockdown rules.
Head teacher Martine Buckley said she would take the action when "parents were putting staff in danger".
The Department for Education said "all vulnerable" pupils should go to school.
During the current lockdown schools are open only to pupils listed as vulnerable and the children of key workers.
Families can form "childcare bubbles" with one other household, and children who live with two parents who live separately can move between households - but any further mixing is forbidden.
In a letter posted on the Chadderton school's Facebook page, Mrs Buckley said she was "upset" to be writing it "but I feel I must".
"Our lovely children are open and honest and they tell us about their lives and activities," she said.
"A number of them are telling us that they are visiting friends, neighbours and family which is against the law.
"Our teachers and support staff are putting their own safety at risk to look after your children and they should be confident you are doing your bit to follow the lockdown rules.
"I am afraid I will have to withdraw the offer of a place in school to children whose parents are putting us in danger."
While a number of parents applauded the message, others have been angered.
One man told the BBC his two grandchildren were at the school and children as young as four have been asked about their activities at home, which was "out of order".
"My granddaughters are pretty intimidated by the tone," he said.
"Asking them questions like that and then the answers off the back of that. They come to a decision of whether they are going to displace them or not."
The school has about 660 pupils aged between four and 11.
A spokeswoman for the Department for Education said during the current lockdown, schools were "open for vulnerable children and the children of critical workers".
"We expect schools to work with families to ensure all critical worker children are given access to a place if this is required," she added.
"We encourage all vulnerable children to attend."