Covid: TikTok success for student filmmaker's lockdown series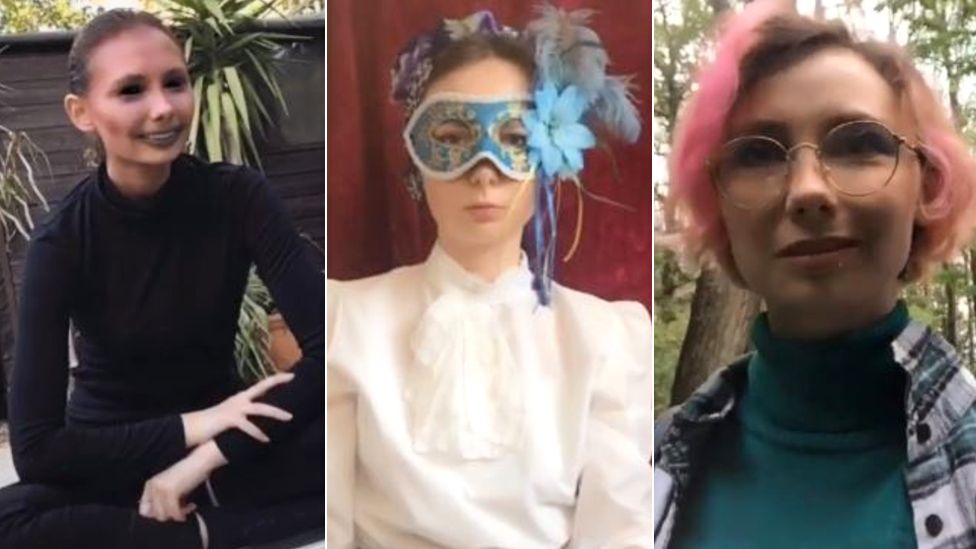 A filmmaker who turned to TikTok after Covid-19 "completely messed up" their studies has said having thousands view their work has been "insane".
Ash Bateson began using the platform after being left with just a phone to film with when the University of Salford moved their course online.
Their series has since had more than three million views, with one episode being watched almost 700,000 times.
The 23-year-old now hopes to turn the short-form series into a longer show.
The London-based student said moving online had been "incredibly annoying", but admitted it had inspired them to try something new.
"The more I used TikTok, the more I started to see a potential for what could happen on it," they said.
"I got thinking about how cool it would be to do an actual series.
"I saw professional broadcasters doing similar things on [video -sharing platform] Snapchat, and I wanted to be one of the first to do it on TikTok."
The student has since created two horror series on the platform, The Cursed Necklace and The Possessed Ring, often writing, filing and releasing an episode within the space of a day, using their home and nearby locations as sets.
"In terms of props, I just went around the house finding anything I could use," they said.
"My lighting was a plug-in light bulb, my tripod was a hands-free phone set... and my camera equipment was my phone."
They also played many of the parts, though had some help from their Liverpool-based friend.
"I would get him to film shots and send them to me," they said.
"Even though I'm down in London and he's in Liverpool, when we cut to him standing inside his front door and me standing outside mine, it looks like we're having a conversation."
The 23-year-old said the main thing they had learned making the episodes was to remember it was "not going to be perfect, but that's why people love TikTok".
They said the response online had been "amazing", adding: "Over the first two seasons, it has accumulated over three million views, which is insane."
They has also had professional interest in her work and said they were now "working with a scriptwriter from LA" on a TV pilot episode.
"That would be my dream, to get this turned into a long-form series," they said.
Related Internet Links
The BBC is not responsible for the content of external sites.