Jack Barnes 'let down again' as manslaughter charges not considered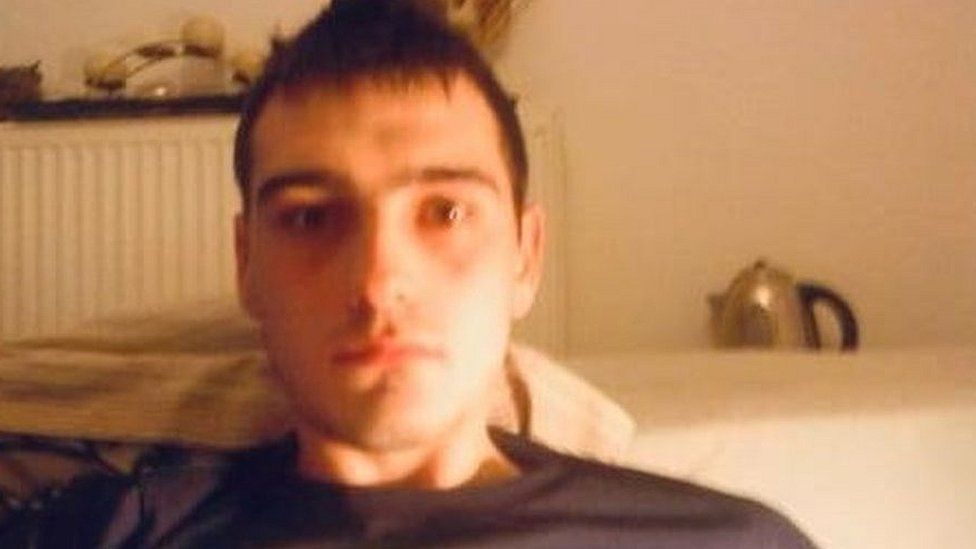 A man who was unlawfully killed after public transport staff restrained him has been "let down again" as no-one will face manslaughter charges.
Jack Barnes, 29, shouted "I can't breathe" as Metrolink workers held him in Manchester in 2016. He suffered a cardiac arrest and died weeks later.
His mother Patricia Gerrard was "hugely disappointed" after prosecutors said there was no new medical evidence from the inquest to reconsider manslaughter.
Assault charges are being considered.
Four men were arrested but the CPS said there was not sufficient evidence to prosecute.
Ms Gerrard said the news that no manslaughter charges would be brought felt like her son was "being let down again" and that "his life didn't matter to others".
The inquest at Manchester Coroner's Court in February heard four Metrolink workers gave a nine-minute chase to Mr Barnes after a row with him at Manchester Victoria station.
Bodycam footage from a camera worn by one of the four workers showed while being held down with his left cheek on the pavement, Mr Barnes asked for help, repeatedly shouting out: "I can't breathe."
The inquest was told the father-of-one's life effectively ended while being held face down outside the Australasia restaurant in Deansgate.
Concluding his death was unlawful, coroner Nigel Meadows said the workers' actions amounted to manslaughter.
"Following new evidence arising out of the inquest, prosecutors are considering whether charges of assault can be brought in relation to this tragic incident," the CPS said.
"However, we are unable to reconsider manslaughter charges because there is no new medical evidence that establishes a clear link between Mr Barnes's death and the actions of the suspects."
The CPS said the "standard of proof required for criminal proceedings is higher than that of an inquest".
Ms Gerrard said: "It took more than four years to finally feel people would be held accountable for what happened to Jack, and when the coroner announced his findings and agreed to the release of the video footage, it was a real step forward as finally people could see what really happened that day."
She said the CPS's decision "feels like another step back".
Lawyers representing her said the CPS had made a "fundamental error" saying manslaughter charges cannot be brought.
They said it had written to the CPS asking it review the coroner's findings, adding if the decision was not reconsidered, the family would launch their own proceedings either through a judicial review or by pursuing a private prosecution.
Related Internet Links
The BBC is not responsible for the content of external sites.