Manchester Arena Inquiry: Lone paramedic 'overwhelmed' after bombing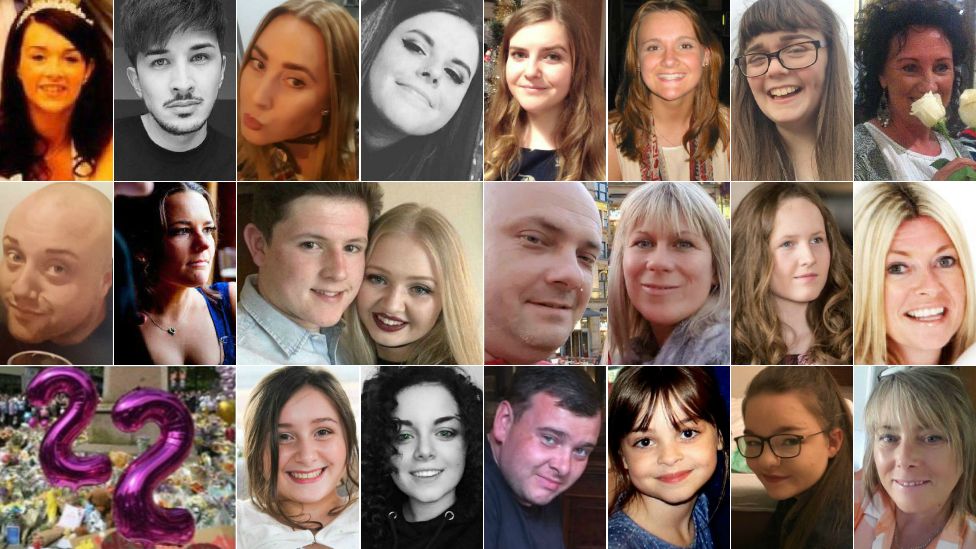 A lone paramedic looked "completely overwhelmed" as he helped people who had been injured in the Manchester Arena attack, an inquiry has heard.
Just one paramedic was in the foyer where the bomb went off for the first 40 minutes after the explosion, which killed 22 people on 22 May 2017.
Sgt Andrew Beasley told the inquiry a lack of suitable medical equipment delayed the evacuation of casualties.
He said it appeared to him there was "too much [to do] for one paramedic".
"The paramedic looked completely overwhelmed, just because of the number of casualties and the way he was having to move between casualties," he said.
Twenty-two people were killed and hundreds more injured when Salman Abedi detonated a bomb at the end of an Ariana Grande concert.
Sgt Beasley, from Greater Manchester Police (GMP), arrived in the City Room foyer about 25 minutes after the bomb went off and was put in charge of getting casualties carried away on makeshift stretchers.
He said he radioed the GMP control room asking for more medical help, which he expected to be relayed to North West Ambulance Service (NWAS).
The message said: "I'm sure ambulance are doing what they can but we still have at least three critically injured who are not being looked after by anybody with any medical training."
Sgt Beasley said he did a dynamic risk assessment in the foyer with his senior officer, Insp Michael Smith.
The inquiry heard they believed there was not a secondary device and it was safe for responders to stay and help move injured people.
Sgt Beasley said it did not occur to him at the time that others outside the arena may find their conclusion useful, but said with hindsight the information should have been passed on.
He also told the hearing it did not cross his mind that other paramedics might be being held back because of worries over safety.
The inquiry has heard only three paramedics ever entered the foyer, including two members of NWAS's Hazard Area Response Team who attended more than 40 minutes after the blast.
In a written debrief after the attack, Sgt Beasley said he saw "officers moving around in a daze initially".
He said some police officers were going to the scene and becoming so overwhelmed that they were ineffective.
"It was a very chaotic scene, whilst we can all be critical of what we did, I did my role to the best of my ability," he said.
"I can honestly say I was overwhelmed on arrival [at the arena] and I remain overwhelmed by the experience."
Sgt Beasley admitted the multi-agency working between the emergency services was not adequate on the night of the attack.
He said he felt it was almost only police officers that were involved in taking out casualties to the ambulance staff on the concourse of Victoria Station.
Related Internet Links
The BBC is not responsible for the content of external sites.