Manchester Arena Inquiry: 'Chaos and confusion' at bombing scene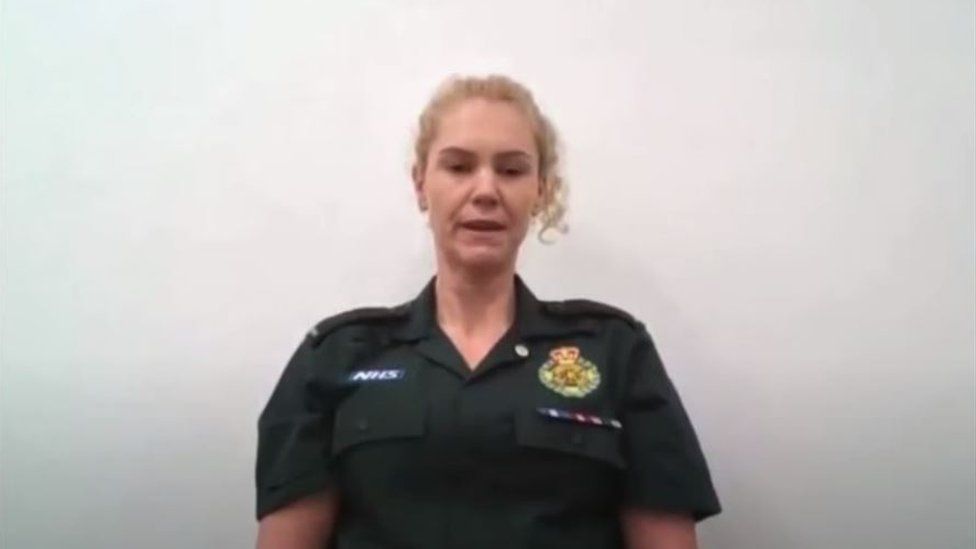 A paramedic has described the "chaos and confusion" at the scene of the Manchester Arena bombing and said initially there were not enough medics.
Helen Mottram from North West Ambulance Service (NWAS) was triaging patients at Victoria railway station 46 minutes after the blast which killed 22 people and injured hundreds more.
Ms Mottram said "a cascade" of casualties came from the nearby arena.
There were not enough paramedics to deal with the injured people, she said.
She agreed it was a "scene of dreadful injury".
Upon arrival she said she had counted 10 'priority-one' and 15 'priority-two' casualties, the inquiry heard.
She said: "I was going from patient to patient to patient....I was playing catch-up with triaging... we were inundated with patients."
Later she insisted: "No-one was missed. We had senior paramedics with the most critically ill patients straight away."
She said there was a "steady flow" of paramedics throughout the incident.
When asked if the scene had an element of chaos, she replied: "Of course. We were dealing with the aftermath of a terrorist attack so there was obviously chaos and confusion everywhere."
Ms Mottram described it as a very noisy working environment and said there was no fluorescent bib available to identify her as the triage officer.
She said that if she had been identifiable communication may have been better.
Seeing patients being carried on makeshift stretchers had surprised her, she added.
However, Ms Mottram praised police for their resourcefulness and their timely manner in fetching patients.
She asked if he and his team had been mobilised but he had not.
Fire crews did not arrive at the scene until more than two hours after the explosion.
Ms Mottram said: "I would have thought [GMFRS] would have been very much part of that operation.
"It is a rescue service, not just a fire brigade. They needed to be there with us that night, I'm so sorry and I apologise."
The inquiry also heard from Ronald Schanck, leader of The Merseyside Hazardous Area Response Team (HART) which did not arrive until almost an hour and 50 minutes after the explosion.
"I was frustrated because I know what our role is," he said. "I certainly knew my (Manchester HART) colleagues… they're probably going to be thinking 'where are we?' because we're that extra support to go forward with them.
He also said "it's not unreasonable for command to be a bit cautious" because it could have been the start of multiple attacks across the North West and the Merseyside team may have been needed elsewhere.
He and his team learned of the blast via TV news and social media.
Mr Schanck said he would have expected to be notified about the incident by ambulance control earlier.
Related Internet Links
The BBC is not responsible for the content of external sites.