Brian Waters death: Dad 'tortured and killed in front of children'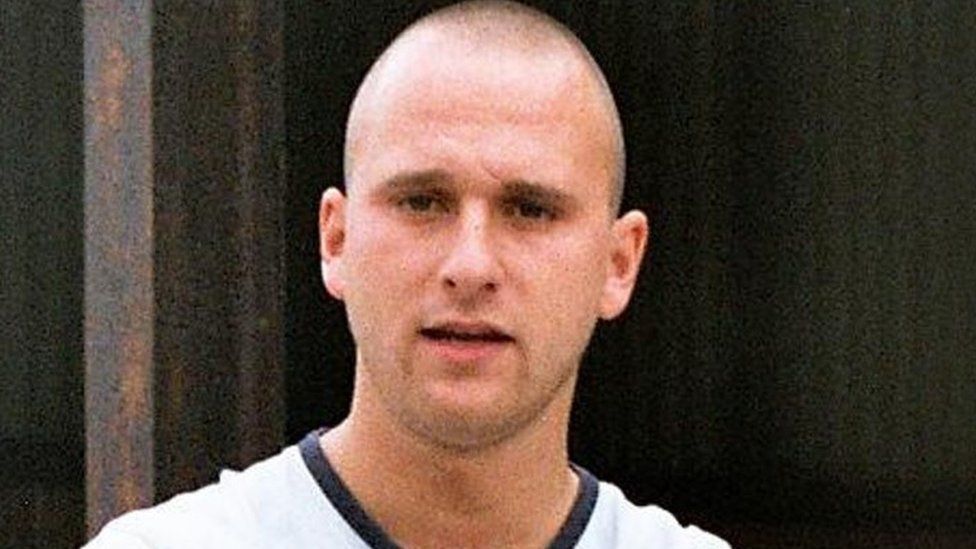 A cannabis farmer died after being tortured for four hours in front of his two children, a jury has been told.
Brian Waters, 44, was beaten, tied up and suspended upside down during the attack at Burnt House Farm in Tabley, near Knutsford, Cheshire in June 2003.
Christopher Guest More Jr, found living in Malta under an assumed name in 2019, is accused at Chester Crown Court of being one of the gang who attacked him.
The 43-year-old undercover television researcher denies murder.
He also denies conspiracy to cause grievous bodily harm to Mr Waters and another man, Suleman Razak, who was also tortured.
Jurors have been told the attack was carried out over a £20,000 drugs debt.
Prosecutor Nigel Power QC said Mr Razak, who worked at the cannabis farm with the Waters family, had given a "chilling" account of the attack.
Mr Razak said he had been tied up and suspended from rafters into a barrel which was filled with fluid.
He then had plant food poured over his body, a pillowcase on his head set alight, and a staple gun used on his feet and body.
The court heard he later saw Mr Waters being pushed into the farm's cow shed and beaten with garden canes before being suspended upside down and struck again with canes and a metal bar.
Mr Waters was then said to have been tied to a chair where his attackers held a binbag over his head and set it alight, causing it to melt on to his head.
Jurors heard that Mr Waters' children, Gavin, then 25, and Natalie, who turned 21 the day before her father's death, later arrived at the farm before being tied up by the gang and asked: "Where's the money?"
Mr Power said at one point Natalie heard her father saying he could not breathe.
He said: "She really panicked and said her dad needed (to go to) hospital.
"She said he had a lung problem, but she was ignored."
Jurors were told she later saw him being cut loose and carried out of the shed, appearing to be limp.
The court heard Mr Waters' wife, Julie, was at the family home in Nantwich when men arrived at the door and searched the house for money.
When they found nothing, they forced her into a car and drove her to the farm, the court heard.
The jury has been told that Mr Waters owed money to drug dealer John Wilson, who is one of three men who have already been convicted of Mr Waters' murder.
The prosecution alleges Mr More had helped Wilson locate Mr Waters' cannabis farm and been involved in stealing cannabis and equipment from it.
Related Internet Links
The BBC is not responsible for the content of external sites.