Manchester Arena Inquiry: Bomb victims felt abandoned, says sister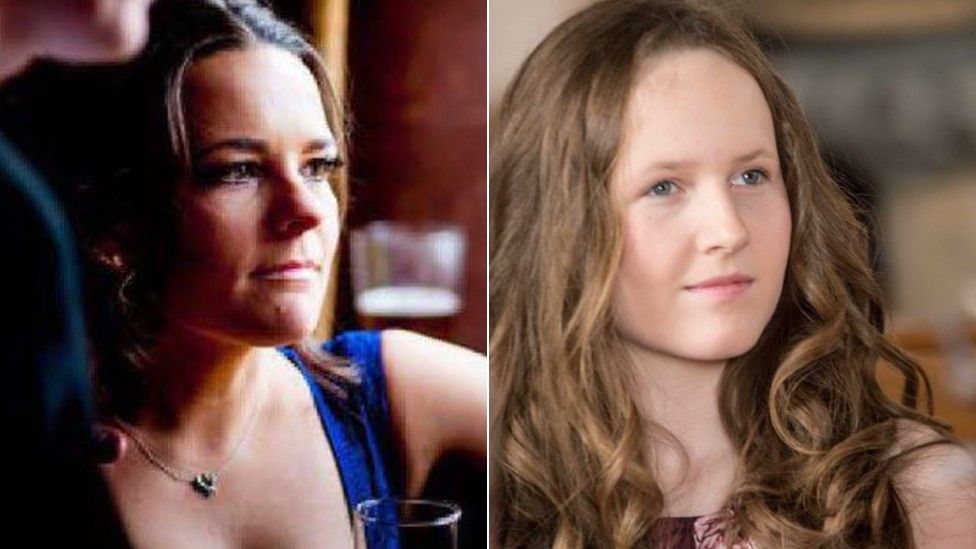 A woman whose sister was killed and daughter was critically injured in the Manchester Arena bomb said the "chaotic" medical response that night had left victims feeling "abandoned".
She told the Manchester Arena Inquiry her 12-year-old was "left to bleed" for hours before being put in an ambulance.
The brother of Megan Hurley, who was also killed, later told the hearing he feared he would "bleed to death".
Twenty-two people died and hundreds more were injured in the suicide bombing at the end of an Ariana Grande concert on 22 May 2017.
Addressing the inquiry, Ms Booth said that in the aftermath, she "felt like nobody knew who would be going [to hospital] next".
"It was very chaotic, there didn't seem to be a plan," she said.
Her daughter "was left for three and a half hours to bleed", she said, adding that the situation had been "crazy".
She told the hearing that she "felt like we'd been abandoned", and that while she was thankful for the help she received from security stewards and police officers, "sadly, the injuries people were facing were just beyond their expertise".
"We needed help from paramedics in the foyer in those first crucial minutes."
The inquiry was told Ms Booth, her daughter and her sister walked into the arena foyer seconds before Salman Abedi exploded his device and were about 30ft (9m) from the blast.
She said it "was like a blowtorch... the hottest heat I'd ever felt in my entire life, just pushing everyone out of its way".
"I knew it was a bomb and my immediate thought was that there's never just one," she said, adding: "I thought someone else is going to run in and shoot us all. I was petrified."
She said her sister was lying with her eyes closed and looked like she was asleep, but her daughter was screaming for help, so after apologising to Ms Brewster, she briefly left her.
She added that there was no sign of ambulances or paramedics for "what felt like hours", but was told repeatedly that they were on their way.
About an hour later, her daughter was carried out on a metal crowd barrier, which she said was a "horrific" way to move someone and one which the 12-year-old found "very scary and incredibly painful".
She spent about two and a half hours on the concourse of Victoria railway station before being put in an ambulance and taken to hospital.
Ms Booth said her family only discovered the following day that Ms Brewster had been one of the 22 people killed, before adding that the bombing had "ruined" her daughter's life and left them both with post-traumatic stress disorder.
Later, the brother of 15-year-old Megan Hurley from Liverpool, spoke about the night.
Bradley Hurley, who was badly hurt in the blast, said he knew "straight away" his sister was dead as she "wasn't moving and I could see... she wasn't breathing".
He said the pair had only been in the foyer for seconds when the bomb went off.
They are thought to have been as close as 6ft (2m) away from the bomber and Mr Hurley suffered 11 shrapnel wounds to his legs, both of which were broken.
Mr Hurley said the explosion "was like a mosquito sound, a really high pitched noise, and it just felt hot everywhere".
The inquiry was told he had phoned his mother to tell her his sister had died, which he said was the "worst thing I'd ever had to do", and his parents managed to get into the foyer to be with their children.
Mr Hurley was the final survivor to be taken out of the foyer and was carried on a makeshift stretcher, which he said was "just so painful" and "totally wasn't an effective way of getting people out".
He said there was frustration at having to wait for "such a long time" for medical help and described how "everything seemed to be going so slow".
The hearing was told he had to wait for three hours on the station concourse before being taken to hospital, during which time he said he believed there was "every chance I could bleed to death" and "might not survive".
He eventually arrived at hospital about four hours 20 minutes after the detonation.
Related Internet Links
The BBC is not responsible for the content of external sites.