Manchester Arena Inquiry: Transport Police 'did not share critical info'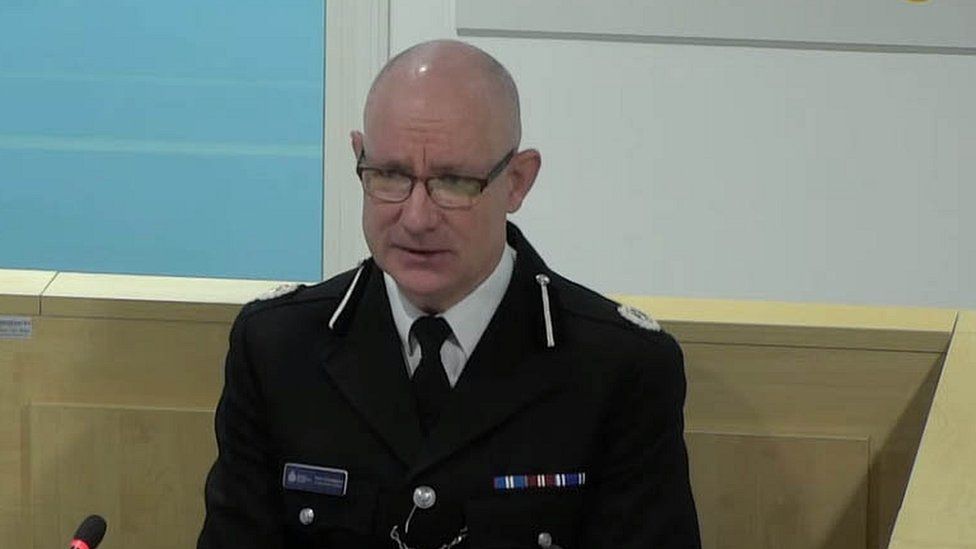 British Transport Police failed to share vital details with other emergency services after the Manchester Arena attack, a senior officer said.
Assistant Chief Constable Sean O'Callaghan told the public inquiry into the atrocity how a declaration of a major incident was not passed on.
Neither were details of the scene following the bombing on 22 May 2107.
He said "a number of changes made have been put in place" to improve BTP's emergency plans.
Twenty-two people were killed and hundreds more injured when suicide bomber Salman Abedi detonated a homemade device at the end of an Ariana Grande concert.
The inquiry has heard details of a range of failures from the emergency services on the night of the attack.
Counsel to the inquiry Paul Greaney said: "BTP did not, at least at any relevant time, co-locate at command level, they did not communicate effectively, nor did they co-ordinate.
"In the result, they didn't jointly understand the risk with emergency service partners and they did not share situational awareness."
Mr O'Callaghan agreed they were "critical pieces of information" and "vital" to enable other emergency services to gain situational awareness.
Asked if he recognised these were serious failures, Mr O'Callaghan said: "Yes, that is correct and a number of changes made have been put in place to address those."
He said improvements made since 2017 included the training given to officers and the force's emergency plans.
The inquiry heard in the two years leading up to the attack, representatives from BTP were only present at three of nine local resilience forum meetings for the area, held for public services to prepare for emergencies.
On the occasions they were present, the meetings were attended by BTP inspectors or chief inspectors, the hearing was told.
Asked whether that was an unacceptable level of engagement, Mr O'Callaghan said: "It's certainly not of the standard I have now put in place."
He said the meetings were now attended by officers of superintendent or detective chief inspector rank.
He also told the inquiry the force had invested in explosive search dogs, with seven now based in the Manchester area, after their canine officer Mojo was the first on the scene at 23.44 GMT that night.
He agreed that further changes were necessary within the force following information revealed during the inquiry and said he would provide a statement on what additional changes would take place.
Before questioning Mr O'Callaghan on what went wrong for the force on the night, Mr Greaney told the inquiry there were a number of BTP officers who responded "swiftly and bravely" within seconds of the explosion.
The inquiry was adjourned for a summer break and will resume on 6 September.
Related Internet Links
The BBC is not responsible for the content of external sites.