Lyme Park: Flooding concern for Pride and Prejudice location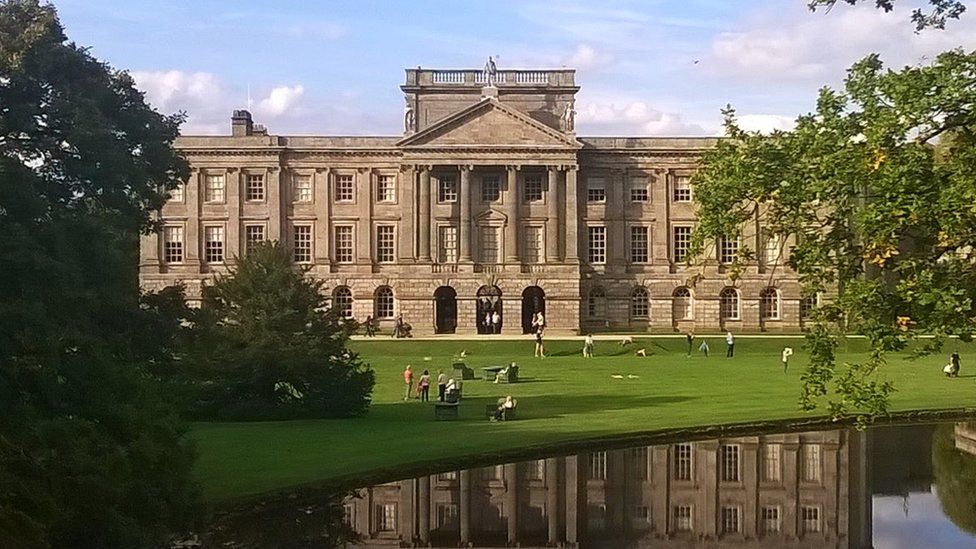 Officials at a park famous for Colin Firth's "wet shirt scene" in BBC's Pride and Prejudice say it continues to be at risk of flooding two years after significant damage to its garden.
The National Trust says flooding in summer 2019 caused more than £250,000 worth of damage at Lyme Park, Cheshire.
Staff managed to protect the hall but the wider estate underwent repairs.
Lead ranger Chris Dunkerley said climate change meant Lyme "needed to prepare" for more floods in the future.
Park officials have already announced they will plant 6,000 trees, re-route water courses, restore moorland and increase the capacity of its lakes.
Nestled on the edge of the Peak District, it featured as the exterior of Mr Darcy's home Pemberley in the BBC's 1995 adaptation of Jane Austen's novel Pride and Prejudice.
The estate saw a significant boost in visitors after the character, played by Colin Firth, was seen diving in its lakes and emerging in a wet shirt.
Deborah Maxwell, general manager at Lyme, said: "If Mr Darcy were to jump into one of the lakes and reservoirs at Lyme today, he would be in for quite a shock.
"Over the years, flooding has caused silt to build up... so they are much shallower than they used to be."
Heavy rain on 31 July 2019 sent torrents of water down the moorland along "outdated water channels" into the garden, leading the central lake to burst its banks, a National Trust spokesperson said.
The garden has been restored and has reopened to visitors, however the park has started flood management projects to "minimise the risk of flood damage to homes and businesses surrounding the estate".
Mr Dunkerley said the team would restore 174 hectares of moorland in the upper catchment of the River Mersey and build "leaky dams" - where felled wood is laid across streams to slow water during heavy rain.
"We know that if climate change continues at its current rate, places like Lyme are at serious risk of damage from flood events.
"While we are tackling climate change in lots of ways here at the National Trust - including our plan to become carbon net zero by 2030 - we also need to prepare for floods now."
In January, volunteers at a south Manchester park where RSPB founder Emily Williamson lived called for better environmental management after flooding of the River Mersey.
Benches were knocked over by rushing water at Fletcher Moss Park during Storm Christoph.
Related Internet Links
The BBC is not responsible for the content of external sites.