Lara Maddocks: Crowds turn out in tribute walk for cot death baby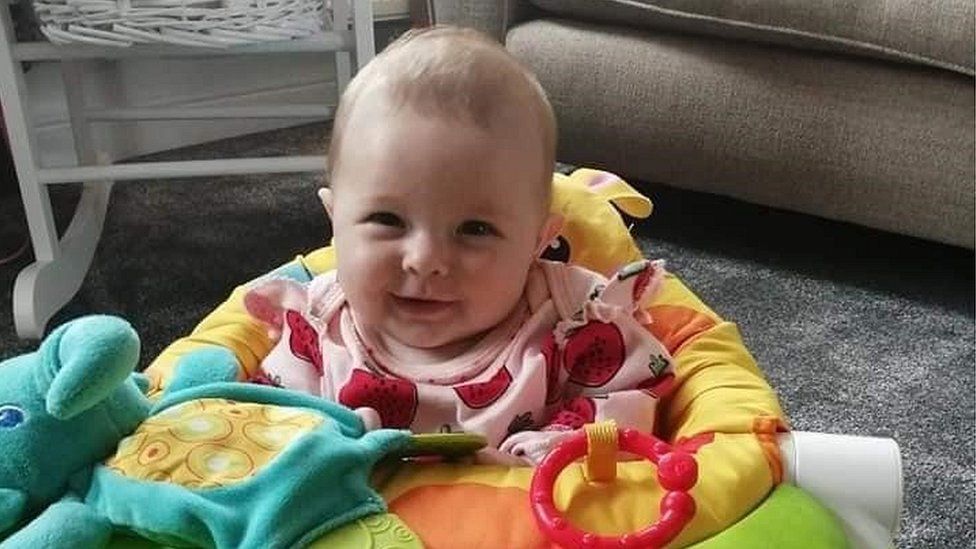 A mother who lost her baby girl to sudden infant death syndrome has praised friends who completed a 200-mile walk in tribute.
Lara Maddocks was three months old when she died from cot death in March 2019 during a family holiday in Crete.
Her parents joined the last leg of a week-long charity trek from London to their Altrincham hometown on Saturday.
Lara's mum Rachael Fitzgerald, who has since given birth to a boy, said the walk was "keeping Lara's memory alive".
A group of the family's friends started the walk earlier this week and were joined on the home stretch by more than 100 people at Tatton Park in Cheshire.
This year's trek followed an 85-mile walk from Leeds in August 2020 for the Lullaby Trust charity, which raises awareness of sudden infant death syndrome (Sids).
Ms Fitzgerald, who received help from the organisation after Lara's death and around the birth of her son Benjamin, said she wanted the funds to help more families around the country.
"As Benjamin grows up, we want him to get involved."
Stephen Beech, who walked from London to Altrincham, said: "This time it is extra special as we walk for the baby brother she never met, Benjamin, so he can see first-hand just how loved his big sister is and that she will never be forgotten."