Afghanistan: Refugees who settled in North West tell of fears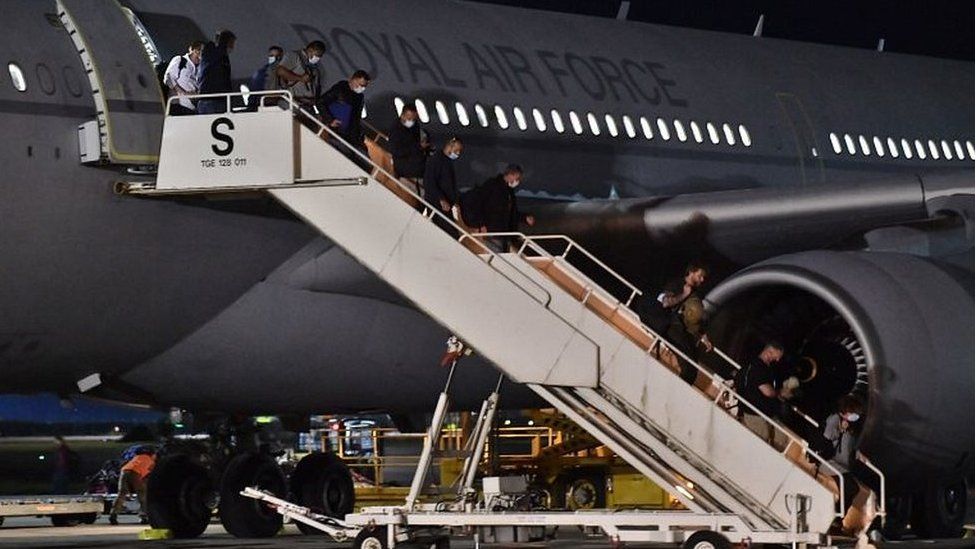 As the Taliban take control of Afghanistan again, former refugees who have settled in the north-west of England tell of their fears for the future of their homeland and loved ones still living there.
Thousands of Afghans have been trying to flee the country after the militants seized control of the capital Kabul on Sunday.
Four Afghans who have settled in the North West say they are worried about relatives still living in their homeland.
Marzia, who was a judge in her native Afghanistan, said the scenes in her homeland brought back terrifying memories of when the Taliban "came to shoot me".
Marzia, who now lives in Oldham, had set up a refuge to help women before she fled the regime.
She told BBC North West Tonight when the Taliban came to power in 1997 "10 men with guns" broke into her home and searched for her because she was a judge.
However, she said she managed to evade them by hiding in the back.
"I saw the real face of the Taliban. A leopard cannot change their spots," she said.
"Why do people want to leave the country? People are scared from them; people [don't] believe them."
Nahid, who is originally from Kabul, arrived in Blackburn on a scholarship in 2007 and went on to complete a masters degree.
She described the Taliban's return to power as "like a bad dream she wants to wake up from" and said she is concerned for her family who remain in her homeland, including her sister who played for the women's national football team.
Nahid said her family received threats from the group when she was in the team.
She now fears women's football will be banned, adding it was "worrying for the people who have been involved".
Nahid, who now lives in Greater Manchester, is still reeling from the speed of events in Afghanistan.
"To see how everything has unfolded suddenly in a couple of days is shocking," she said.
"It is unbelievable how the fate of 37 million people has changed overnight."
A doctor from Chester said his sisters still living in the Afghan capital Kabul were "in shock" and "traumatised".
Dr Waheed fled the country in 1999, arriving in the UK aged 15.
He went on to achieve A grades in his A-levels and studied at Cambridge, Imperial and Harvard universities before becoming an NHS emergency doctor.
Since then, he has launched a charity called Arian Teleheal, which connects doctors in Afghanistan and other conflicted areas to specialists around the world who offer advice and guidance for their patients, and written a book about his life.
"My family members have all been in shock," the 38-year-old said. "They are also traumatised, because everything unfolded so rapidly, so they don't know what to make of it, what the future might hold for them."
He said it was important Afghan refugees were not criminalised on arrival in the UK and "treated as humans".
"I was one of those refugees when I came here in 1999, with hope for safety and a dream to become a doctor. I was given safety, I was shown compassion," he said.
Faza, who blogs about women's rights, arrived in the UK from Afghanistan when she was six years old.
Now living in Greater Manchester, she said she was worried about the family she had left behind, especially the women.
"They are hiding because they are scared. I would be because they have done things in the past," she said.
"There is news about them taking women as slaves to other countries and using them and abusing them. And women cannot wear nail varnish and ridiculous superficial things like that."
Faza said her relatives were "really scared so [were] not leaving the house".
Meanwhile, political leaders in the North West have pledged to help Afghan asylum seekers.
Greater Manchester Mayor Andy Burnham said the region would play its part in helping people but has called on the government to stop councils being able to refuse to take refugees.
Greater Manchester hosts 15% of asylum seekers who come to the UK.
"We need a fairer system," he said.