Marcus Rashford says child food poverty 'devastatingly' worse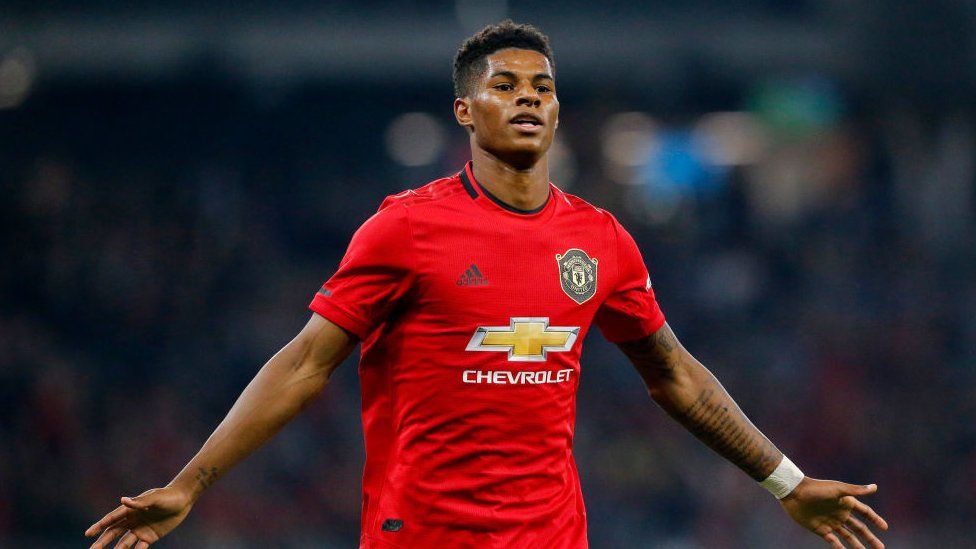 Campaigning footballer Marcus Rashford has said child food poverty is getting "devastatingly" worse.
The England forward, 23, has called on people to write to their MP in a bid to end a "child hunger pandemic".
Data showed this was 27% higher than before the coronavirus pandemic, when Rashford began his hunger campaign.
A government spokesman said that it would "continue to support eligible pupils during the school term" and families had "benefited from additional support for food and utilities" during holidays.
Manchester United striker Rashford said: "While we've come a long way in the last 20 months, placing the issue of child food poverty at the forefront, devastatingly, the issue is getting worse not better.
"The entire nation got behind the national team this summer so let's put these figures in football terms: You can fill 27 Wembley stadiums with the 2.5 million children that are struggling to know where their next meal might be coming from today.
"What is it going to take for these children to be prioritised?
"Instead of removing support through social security, we should be focusing efforts on developing a sustainable long-term road map out of this child hunger pandemic."
Rashford is supporting three recommendations as part of businessman Henry Dimbleby's National Food Strategy, which aims to guarantee that every child at risk of going hungry gets some good food every day:
Expand free school meal eligibility to all children aged 7-18 in all households earning £20,000 or less after benefits, and to children who are undocumented or living in immigrant households with "no recourse to public funds"
Provide long-term funding for the Holiday Activities and Food Programme
Expand Healthy Start eligibility to all households with pregnant women or children under five earning £20,000
Anna Taylor, executive director of The Food Foundation, said: "This will only get worse if left unaddressed and entrench inequalities deeper."
Related Internet Links
The BBC is not responsible for the content of external sites.