Metrolink strikes to hit Manchester sporting events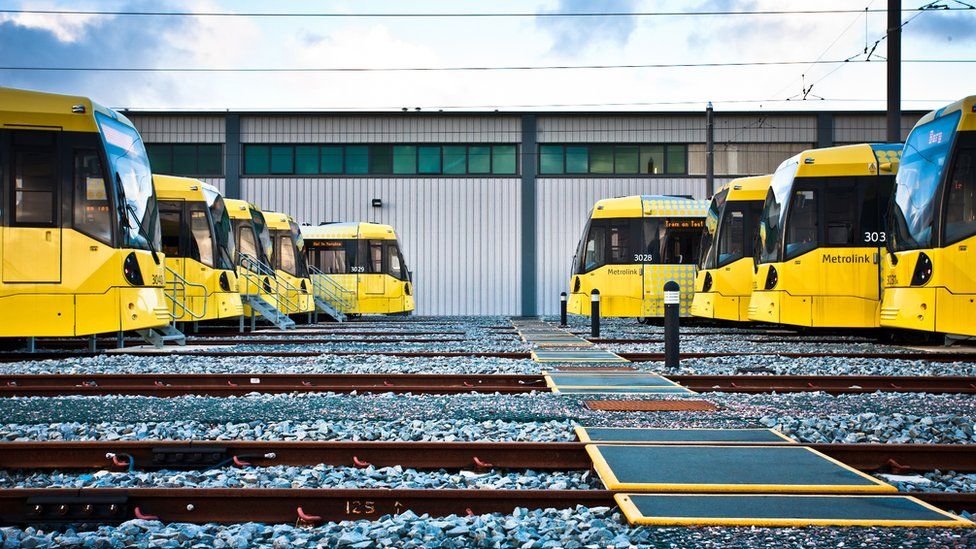 Tram drivers have voted to strike at weekends in a move expected to hit two major sporting events in Manchester.
The move comes after Metrolink drivers were offered a 1% pay rise, which trade union Unite described as "pitiful."
The first strike, on the weekend of 25-26 September, would coincide with The Great Manchester Run and a Manchester United home fixture.
Operator KeolisAmey Metrolink and Transport for Greater Manchester both called the vote "disappointing".
Ninety-seven percent of the 300-plus drivers and supervisors, who are members of Unite, voted to strike on the weekend when Manchester United play Aston Villa at Old Trafford on the Saturday.
Competitors and spectators for the Great Manchester Run the following day have been advised to use public transport due to extensive road closures in the city centre.
Further strikes are planned for 10 October, the day of the Manchester Marathon, and on 24 October when United play Liverpool at home.
Unite claims a 0.3% pay increase for the period from January to March followed by a 0.7% rise from April 2021 to April 2022 is a "pay cut in real terms" when set alongside inflation.
Regional officer Dave Roberts said: "Metrolink tram workers, who continued to work throughout the pandemic, are simply not going to accept a frankly pitiful pay deal."
The union's general secretary Sharon Graham said: "One minute tram drivers are being hailed as heroes and the next they are facing a real-terms pay cut."
A statement from KeolisAmey said the company was "disappointed" and would "continue to engage with Unite to work towards an agreement that prevents any strike action".
Transport for Greater Manchester's head of Metrolink Danny Vaughan said: "There is no good time for strike action, but the days picked will affect participants and spectators of two very significant and much-welcome events."
Related Internet Links
The BBC is not responsible for the content of external sites.