Manchester Arena Inquiry: Bomb victim's mother praises PC's actions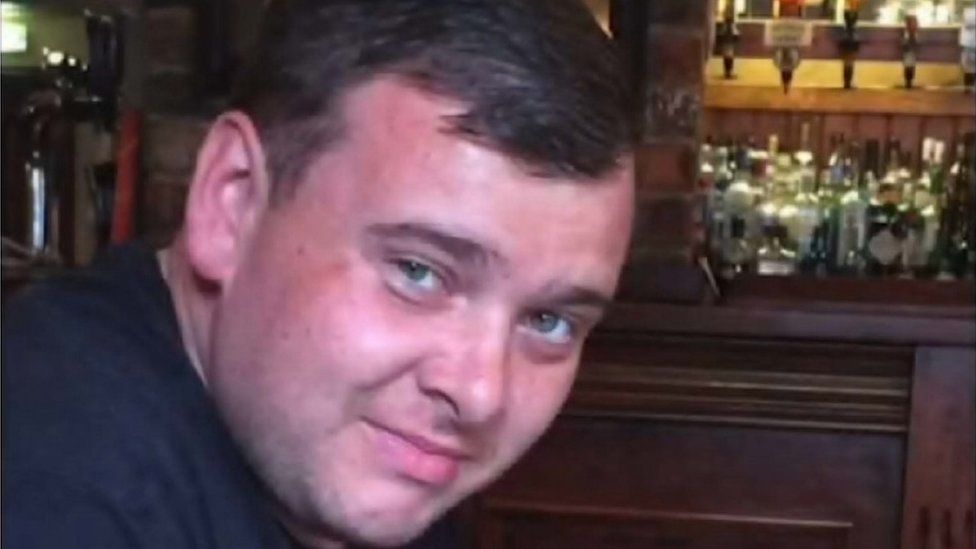 The mother of a man killed in the Manchester Arena attack has thanked the officer who covered her son's body in the aftermath of the blast.
British Transport Police (BTP) officer Jessica Bullough placed T-shirts over the body of 32-year-old Philip Tron after he died from his injuries.
The father-of-one was among 22 people killed in the May 2017 bombing.
The inquiry also heard details about Olivia Campbell-Hardy, Michelle Kiss and Jane Tweddle, who were also killed.
Twenty-two people were killed and hundreds more injured when Salman Abedi detonated a device at the end of the Ariana Grande concert on 22 May 2017.
Mr Tron's mother June told the public inquiry into the atrocity she was waiting in the car outside the arena for her son when she heard an explosion, and knew immediately it was a bomb.
Mr Tron, from Gateshead, had gone inside just a few minutes earlier with his partner's daughter Courtney Boyle, who was also killed, to collect her sister Nicole from the concert.
She described how he had played a prank on her as he had got out of the car.
"He knocked on the car door saying 'mam, I owe you one', while flipping his middle finger to make me laugh. That was the last time I saw my son," Mrs Tron said.
The inquiry heard Mr Tron, who was approximately 13ft (4m) from the bomber at the time of the explosion, died of multiple injuries.
Mrs Tron said: "I would like to thank the BTP officer Jessica Bullough for covering Philip in the City Room after he had died, I'm grateful to her for doing this which I see as an act of real dignity for my son."
She is one of three BTP officers now being investigated by the force's professional standards department.
At 21:00 she texted her mother, Charlotte Hodgson, who replied to say she loved her and to keep her phone on.
Olivia was approximately 16ft (5m) away from Abedi when he detonated his bomb and was captured on CCTV lying on the ground motionless.
Her head and upper body were later covered by a poster.
The inquiry heard she died from unsurvivable head and neck injuries and that it was likely her head injury would have caused her to lose consciousness immediately.
Sir John Saunders, the inquiry chairman, said: "There are times when even lawyers are lost for words and this is one of them. What a talent. What a waste. What a lovely person."
The inquiry also heard a tribute from the husband of Michelle Kiss, who recalled how she "loved and embraced life".
The 45-year-old was standing with her friend Ruth Murrell in the foyer, and was 64ft (20m) away from the bomber when he detonated his device.
The inquiry was told her death would have been immediate as a result of a head injury.
Sir John said: "Michelle was a loving and devoted mother, wife and daughter, there can be no more important roles than those."
Her friend Joanne Aaron had managed to get her to the exit before she collapsed when she and a member of the public, Sean Gardner, had tried to get her help.
Police and first-aiders tried to give her CPR and she was then covered in T-shirts and later a white sheet, the inquiry was told.
The 51-year-old's three daughters described her as their "warrior mum".
The family's barrister, Duncan Atkinson QC, said Ms Tweddle filled the family home with "love and laughter" and when her daughters asked her for the time, she would reply: "It's the time of your life, never forget it."
Sir John said: "She lived by that motto and we can all learn a great deal from that."
Related Internet Links
The BBC is not responsible for the content of external sites.