Manchester Arena Inquiry: Families call ambulance response 'inadequate'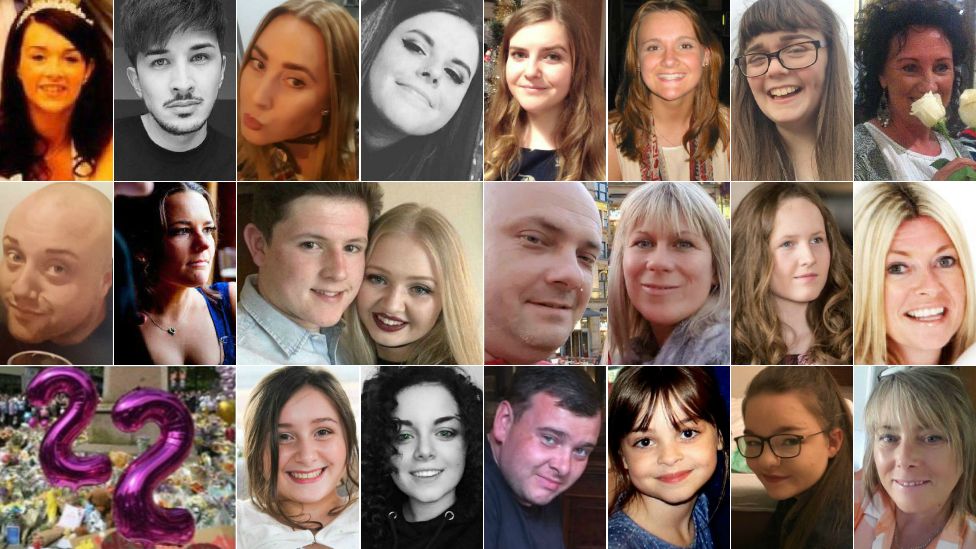 North West Ambulance Service's response to the Manchester Arena attack was "inadequate", an inquiry has been told.
Only one paramedic was at the bomb scene for the first 45 minutes and many victims were helped by police officers, first aiders and members of the public.
Guy Gozem QC, representing the families of three of the 22 victims, told the Manchester Arena Inquiry a lack of paramedics was "clearly unacceptable".
He said "unnecessary" treatment delays "can't be accepted or excused".
In addition to the 22 who died, hundreds more were injured when a homemade device was detonated by a suicide bomber in the City Room foyer of Manchester Arena on 22 May 2017.
The inquiry has heard only three North West Ambulance Service (NWAS) paramedics went into the foyer and they triaged and assessed patients, but did not provide any significant treatment.
Mr Gozem said the failure to get more paramedics into the City Room was primarily based on ambulance commanders, who were based at the adjoining Manchester Victoria railway station, not having "a proper understanding of what was happening and what was needed".
"Any unnecessary delay in treating and extricating those who had been injured can't be accepted or excused," he said.
The hearing was told there was "no meaningful communication" between NWAS and the other emergency service commanders based at the arena, and the service's leaders were "always reacting, always playing catch-up".
Mr Gozem said Dan Smith, the NWAS on-scene commander, was "effectively working in a vacuum… in the hope, no doubt, that what was already happening would be enough".
"However, that was wrong."
NWAS was also criticised for having "no meaningful casualty management plan" for moving the injured out of the foyer.
The inquiry was told it was left to police officers to decide which patients to take out first and then arrange for them to be carried on improvised stretchers, made from advertising boards and metal barriers.
Mr Gozem told the court that the way casualties were taken out of the bomb scene was "unsafe and unnecessary".
He said NWAS had "lost control" of the decision on when to bring patients out, meaning casualties did not arrive at hospital in order of priority.
In his submission, Mr Gozem accepted that members of the ambulance service were doing their best in very difficult circumstances and "most of the errors of judgement or mistakes... were made under immense pressure".
Later, Lisa Roberts QC, representing NWAS, said the service accepted "opportunities were missed that would have enhanced their response", but insisted all ambulance staff responded "with the very best intention of doing all they could".
She said the service agreed more specialist paramedics from its Hazardous Area Response Team could have been sent directly to the bomb scene to help "complete triage faster" and provide "greater reassurance", but there was an "insufficient number of non-specialist paramedics" to send until an hour after the explosion.
"To those who waited frightened and in pain, NWAS apologies," she said.
She said the service also accepted that proper stretchers should have been used to remove casualties and NWAS admitted that "purpose-designed stretchers were available and were not properly considered and/or deployed on the night".
"It would clearly have been more dignified and efficient for the injured to have been extricated from the City Room using such stretchers," she said, adding that there should also have been stretchers available on-site at the arena.
She said NWAS also acknowledged that "communications with the other emergency services fell short of expectations".
The service was "committed to putting into practice" lessons learnt from the night, she said, and to ensuring that in the "grim reality" of another terrorist attack, the "response was improved".
However, she said NWAS denied making any mistakes that contributed to the deaths of John Atkinson, 28, and eight-year-old Saffie-Rose Roussos.
Ms Roberts said contrary to earlier evidence, the ambulance service believed Saffie-Rose's injuries were unsurviveable and the paramedics who treated her "acted reasonably and appropriately in extremely difficult circumstances".
She said NWAS accepted John Atkinson could have survived if catastrophic bleeding had been stemmed within 40 minutes of the explosion, but the "evidence demonstrates that such treatment could not reasonably have been provided by NWAS during that period of time".
The inquiry was also told the failure of Greater Manchester Fire and Rescue Service (GMFRS) on the night of the attack was "a source of enduring regret" to the service.
Major command and communication problems meant fire crews were not deployed to the incident until more than two hours after the bomb exploded.
Andrew Warnock QC said GMFRS was "sincerely sorry that it let down those injured in and affected by the attack at the time when they needed it most".
The court was told the "entire fire service response stalled" because the initial fire commander could not contact of his police counterpart by telephone.
Mr Warnock said fire commanders on the night "laboured under the impression that an active shooter was at large" but he accepted that the fire service response "could fairly be described as risk averse".
He told the hearing that GMFRS was "seeking to learn lessons" from the failures and said many changes and improvements had been made.
The inquiry also heard North West Fire Control (NWFC) accepted it was "responsible for significant communication failures" which affected the mobilisation of firefighters.
Robert Smith QC said NWFC "unreservedly apologises to all those who've been affected" and expressed its "sincere regret for those mistakes".
However, he said the fire control room "acted reasonably and appropriately" in deciding not to mobilise crews straight to the arena, because of the possible threat of further attacks.
Operators instead opted to contact a fire commander for advice.
Related Internet Links
The BBC is not responsible for the content of external sites.