Cryptocurrency: Ethereum worth millions returned to scam victims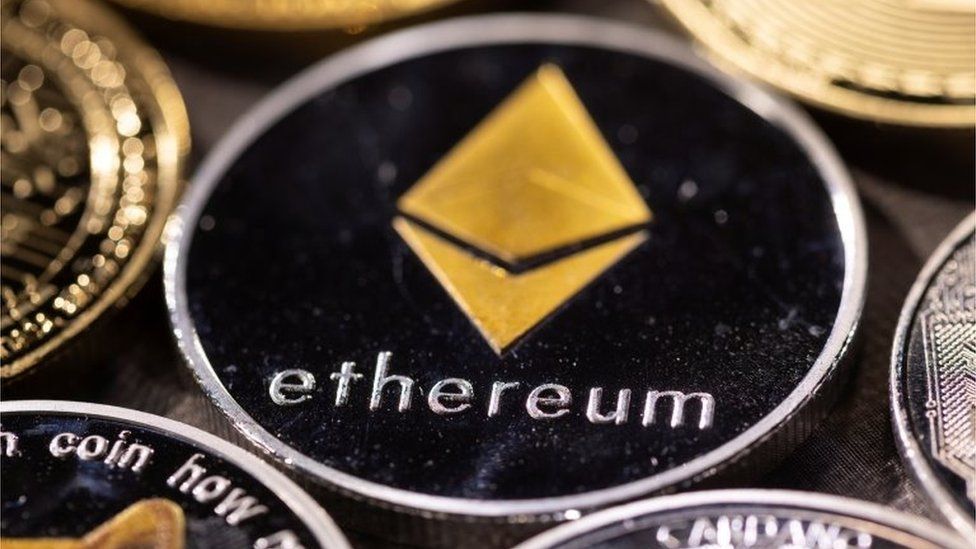 More than £4m in cryptocurrency has been returned to 23 people who fell victim to a fake trading scam.
Greater Manchester Police (GMP) seized Ethereum and other currency worth more than £16m in July 2021.
A man and a woman, aged 23 and 25, were arrested on suspicion of fraud and money laundering offences and later released under investigation.
The force said it was working to return the remaining seized currency to a further 127 victims of the scam.
A GMP spokesman said 150 people based in the UK, US, Europe, China, Australia and Hong Kong had deposited money into what they thought was an online savings and trading service.
He said those behind the service had waited until a significant amount of money was deposited and then shut down the website, transferring the gathered funds into their own accounts.
Officers received intelligence that those running the scheme had been in Manchester and raids were carried out.
An encrypted USB stick containing about £7m worth of stolen Ethereum, the world's second largest cryptocurrency after BitCoin, was seized, while a further £9m in cryptocurrency was located in an "online safe" a few days later, the spokesman said.
Urging anyone who believed they had been targeted by the scam to get in touch, Det Ch Insp Joe Harrop said trading online currency was "incredibly technical and needs in-depth knowledge in order to make sure your money is safe".
"If it seems too good to be true, it probably is," he said.
Related Internet Links
The BBC is not responsible for the content of external sites.