Funeral of soldier killed in Afghanistan canal crash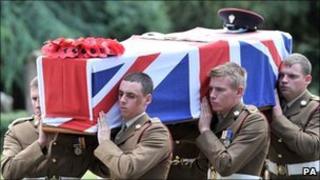 Hundreds of mourners gathered for the funeral of one of four British soldiers killed when their vehicle plunged into a canal in Afghanistan.
Pte Alex Isaac of 1st Battalion, died alongside Pte Douglas Halliday, Colour Sgt Martyn Horton, and L/Cpl David Ramsden last month.
On Friday, family and friends gathered for the funeral of the 20-year-old at Eastham Parish Church, Wirral.
Hundreds of people lined the streets of the village ahead of the service.
Pte Isaac's coffin arrived accompanied by an honour guard of mounted Merseyside Police officers. Local veterans from ex-forces associations formed a guard of honour.
The soldier's parents, Annette and John, brothers Chris and Robert and girlfriend Megan Anyon led the mourners in the service.
The vicar of Eastham, the Reverend Beth Glover, said: "His family knew him, as you all knew him, as one in a million.
"Fun to be with, somebody with an often wicked but distinct sense of humour which could drive away anybody's blues and often did."
During the service the soldier's favourite songs were played, including Clocks by Coldplay and Dizzee Rascal's You've Got The Love.
Attack response
Paul Ellis, padre of the Mercian Regiment, read tributes from Pte Isaac's family, including his brother Robert, who said: "You were strong, brave, courageous and funny.
"You always made me laugh when I was down, you were a people person, a likeable character.
"Nothing I can say today will bring you back but you will always be with me in my heart."
The soldiers, part of a police advisory team, died on 23 June. Pte Halliday and CSgt Horton were laid to rest earlier in the week.
The team were responding to an attack on a police checkpoint near Gereshk when their armoured Ridgeback left the road and fell into the Nahr-e Bughra canal.
Pte Isaac's commanding officer, Lt Colonel Andrew Hadfield, described him as a popular, Mercian warrior.