Oil leak in Huskisson Dock on River Mersey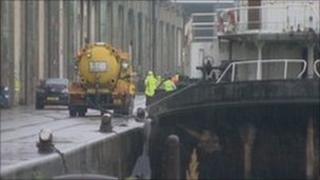 A clean-up operation is under way after gallons of gas oil leaked from a barge into a dock in Liverpool.
The spill was discovered at Huskisson Dock, at about 1325 BST. The barge was unmanned and not in use at the time.
A boom was set up across the mouth of the dock, to stop it spreading to the River Mersey, Harbour Master Captain Steve Gallimore said.
The cause of the leak is not yet known and will be investigated by the Marine Accident Investigation Branch.
One vessel was delayed for several hours, but no other shipping was affected by the incident, Mr Gallimore said.
He added: "It should be pointed out that gas oil is a very light oil, and that much of the spill will simply evaporate."