Floods caused chaos across Merseyside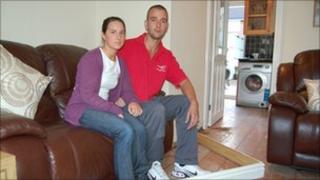 Residents are assessing the damage caused to their homes after torrential downpours caused flash floods across Merseyside.
The rain, which started at about 1100 BST on Tuesday, caused delays to commuters, closed roads and flooded properties.
Matthew Parkins, of Rockwell Road in West Derby, said his living room was submerged in 18ins (45cm) of water.
The fire service said they have received nearly 200 calls in 18 hours.
Merseyrail was forced to close its Northern Line, which runs from Southport to Hunts Cross, for several hours on Tuesday night, but it has since re-opened.
Pete Owens, from Merseyside Fire and Rescue Service, said: "We received lots of calls, mainly from people seeking advice as they were experiencing something they may never have been through before.
"However, we only went to 10 call-outs. One of those was to a cancer patient in West Derby who we carried out of her home because she needed to get to an essential appointment at the hospital."
West Derby was the area worst hit by the flash floods, he said.
Mr Parkins, who was at work when the torrential rain started, received a call from his neighbours telling him to return home immediately.
"It was absolutely devastating to see our home and the driveway under so much water.
"We had to wade down the road to get to the house and we found our King Charles spaniel cowering in the back of the kitchen.
"The water was up to his chest, the baby's toys and shoes were floating around in the living room, it was terrible."
On Tuesday evening, when the rain was at its heavist, 50 main roads were affected with many having to be closed.
Businesses in Allerton and Aigburth suffered as the main roads through the two areas were cordoned off as the water became too deep for vehicles.