Liverpool Central Library facelift approved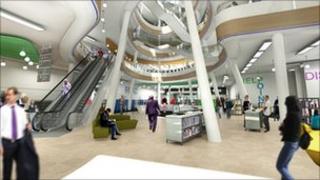 Plans to restore Liverpool's historic Central Library have been approved, with work due to start in the autumn.
The 150-year-old Grade II listed building on William Brown Street will be renovated and its post-war extensions demolished and rebuilt.
It will close to the public on Friday and a temporary service will be set up at the World Museum Liverpool.
The new library is expected to open in 2012 after the work, costing £50m, has been completed.
The new facility will have a purpose-built home for the Liverpool Records Office, new visitor facilities and "excellent access" to the book collections.
A new entrance and rooftop atrium and a terrace overlooking St John's Gardens will be included.
'Immense scale'
The library's historic Hornby Library and Oak Reading Rooms will also be fully open to the public for the first time.
There will also be state-of-the-art computer facilities, which will allow young people to download music and games, as well as wi-fi access to the internet.
Council leader Joe Anderson said: "Liverpool Central Library is one of the UK's most celebrated public libraries but it desperately needs this renovation, so the approval of this scheme is one of the best bits of news the city will hear this year.
"The scale of this project is immense and it will take some time to complete, but I'm sure the wait will be well worth it.''
The work is being carried out by Inspire Partnership, which is a joint venture between Amber Infrastructure and Shepherd Construction with architects at Austin-Smith: Lord and Cofely.