Funeral for Warrington soldier killed saving friend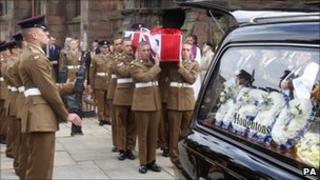 A soldier led the tributes at the funeral of his best friend who died saving his life in a roadside bomb attack in Afghanistan.
Pte Thomas Sephton, 20, of 1st Battalion The Mercian Regiment, was on foot patrol in Helmand Province on 4 July when he was injured in the blast.
The soldier, from Warrington, was flown to the UK but died the next day.
At the service at St Elphin's Church in Warrington, Private Charlie Emina paid tribute to a "true hero".
The friends were at the head of a patrol in the Nahr-e Saraj district of Helmand province on 4 July when they were struck by the blast of an improvised explosive device (IED).
Pte Sephton was flown to the UK for emergency treatment but died the following day at Birmingham's Queen Elizabeth Hospital.
Pte Emina joined his best friend's parents, Angela and Ian, and their family and friends for the funeral.
Hundreds of people lined the route of the funeral cortege and applauded as Pte Sephton's coffin, draped in the Union flag, went past.
During the service, Pte Sephton's ceremonial cap was presented to his brother, Daniel, who placed it on the coffin.
In a statement read by the battalion's Major Ronnie Goodwin, Pte Emina said: "Sefo was my closest friend in the world - we were like brothers. He was always the life and soul wherever he went.
"He loved his friends and family more than anything. He was always first out the gate on patrol and had pride doing the job for his country.
"He saved the lives of his section on two occasions and on that tragic day he saved my life and gave his own.
"He is a true hero to his friends, family and his country.
"As a nation, we owe him a great debt of gratitude.
"I love him with all my heart and I will be lost without him."
'Sincerity and strength'
Pte Sephton's uncle, Anthony Gibson, told the service: "He had the rare ability to be friendly and affectionate to all whilst maintaining sincerity and strength.
"He touched so many lives in a positive way and, sadly, we now have holes in all our hearts."
The soldier's body was then taken to Walton Lea Crematorium for a private committal.
Maj Goodwin said Pte Sephton was a "star of the regiment".
He added: "Tom was always at the lead of his patrol and he was very good at looking for IEDs and unfortunately he was killed by an explosive device.
"In doing so, he saved the lives of a number of soldiers.
"He will be missed by all ranks of the Mercian Regiment and, of course, his many friends will be thinking of him today while serving over in Afghanistan."