Seven arrests after 2004 stabbing in Liverpool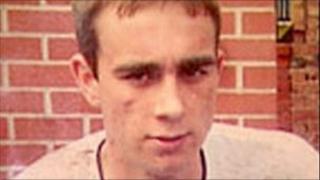 Seven arrests have been made six years after a 21-year-old man was stabbed to death outside his home in Liverpool.
Curtis Kinsella was stabbed in the back with a kitchen knife while playing with children on his sister's 13th birthday.
The father-to-be staggered inside the house in Aigburth and died in his mother's arms in September 2004.
Five local men, aged 22, 23, 25, 29, 55, a 53-year-old woman and a man, aged 20, from Aberdeen, are in police custody.
Since his murder, three other arrests have previously been made but no one has been charged.
Revenge attack
All the men, apart from the 29-year-old, were arrested on suspicion of murder and the woman was detained on suspicion of perverting the course of justice.
The 29-year-old man, from Garston, was arrested on suspicion of conspiracy to commit grievous bodily harm.
His mother pleaded for information on the BBC's Crimewatch programme in 2007 but no new leads came from it.
The car mechanic, whose wife Hayley was expecting her first child, was attacked outside the house in Alwyn Street after being grabbed by four men who pulled up in a silver saloon car.
About an hour before the stabbing it is believed a larger group of men met in the Aigburth Arms pub - a short distance from the murder scene - and were getting ready to go looking for his brother, Ashley Kinsella.
Police do not believe this was a case of mistaken identity but that some members of the group decided to take revenge on Ashley's brother instead.