Hillsborough panel will continue with 'no changes'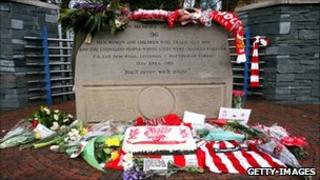 The Hillsborough panel will continue its work, the government has confirmed.
Home secretary Theresa May made the announcement ending speculation that the committee formed to oversee the disclosure of hidden records on the football tragedy could be under threat.
She said that "no changes would be made" in their work to unearth files and understand the disaster.
Ninety-six Liverpool fans were crushed to death on 15 April 1989 at Sheffield Wednesday's Hillsborough stadium.
There were concerns that the new coalition government was not as committed to the future of the panel as the previous administration and resources could be hit as part of cost-cutting measures.
But Mrs May said in a statement from the Home Office: "I am well aware of the significance of the Hillsborough disaster, which had a profound impact on Liverpool as well as people in Sheffield, Nottingham and beyond. "
The Bishop of Liverpool, the Right Reverend James Jones, chairs the panel and has been speaking to the home secretary.
She said he "confirmed both the importance of the panel's work and the diligence and professionalism with which it is carrying out its duty."
She added: "I am happy to confirm it will continue with our full support."