Naming ceremony for New Brighton's new lifeboat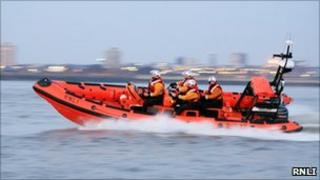 A Merseyside seaside resort's new lifeboat has been named at a special ceremony.
About 200 people gathered on Marine Promenade in New Brighton to see the £160,000 boat formally named the Charles Dibdin.
The Charles Dibdin replaces Rock Light which was stationed at the resort from 1996 until late last year.
It has been named after the founder of the Lifeboat Fund, which supports the Royal National Lifeboat Institution.
Mr Dibdin started the fund in 1866 with an appeal to colleagues to raise £300 for a new lifeboat.
It has become the official charity of the Civil Service, Royal Mail and BT.
The Charles Dibdin is the 51st boat the fund has provided.
'Absolutely thrilled'
Frank Brereton, chairman of New Brighton RNLI Lifeboat management group, said: "We are extremely grateful to the members of the Lifeboat Fund for their continued support.
"We are absolutely thrilled with the Charles Dibdin.
"With its increased speed and size and technological advancements like radar, the Atlantic 85 enables our volunteer lifeboat crew to carry out their life saving work more safely and effectively than ever before."
Diana Allpress, the honorary secretary of the Lifeboat Fund, officially named the new boat after Mr Dibdin.
She said: "He would be very proud that The Lifeboat Fund is still continuing its support for the charity and it is only fitting that New Brighton's new RNLI lifeboat should bear his name."