Merseyside GP accused of patient sex crime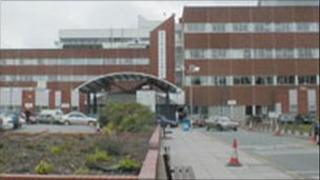 A GP sexually assaulted a woman during a consultation at a Merseyside NHS walk-in centre where he worked, a court has heard.
Raza Hyder, 40, was accused of assaulting a 23-year-old at the centre at Arrowe Park Hospital, Wirral.
Liverpool Crown Court heard that Dr Hyder, from Wilmslow, carried out the assault on the shop worker on 31 July 2009. He denies the charge.
The woman had been seeking help for constipation problems.
Prosecutor Arthur Gibson told the jury the alleged victim had been to see her own GP the day before the attack and had been prescribed medicine.
He said that she had gone to the Arrowe Park Hospital walk-in centre the following evening, accompanied by her mother, because she was still in pain.
At about 2050 BST she was seen by Dr Hyder who checked her urine sample and asked her to lie on the couch for the examination, the court was told.
It heard that the woman declined an offer to have somebody else present.
'Pale and shocked'
Mr Gibson told the jury: "He then put on some surgical gloves and moved her leggings and pants further down."
Following the alleged assault, Mr Gibson said that Dr Hyder said: "Are you OK? Do you want me to stop? She said, 'Yes I want you to stop."'
The doctor gave her a prescription and she left the room looking "pale and shocked", according to her mother waiting outside.
"As they left the hospital she started to cry," Mr Gibson said.
"Her mother asked what happened. She said, he's touched me down below..."
Dr Hyder was arrested on 6 August.
He denied allegations that he acted improperly telling officers she told him the pain was between her legs and pulled her leggings down herself.
He accepted he examined her groin area but denied assault.
The trial continues on Tuesday.