Haiti rescue dog returns home to Manchester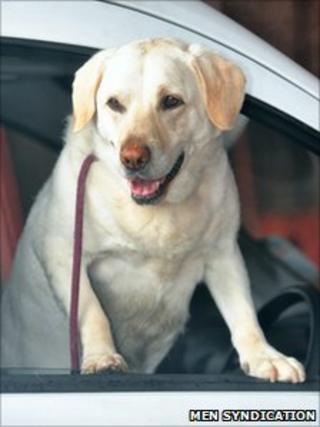 A rescue dog, which helped recover bodies and look for survivors of the Haiti earthquake disaster, has finally returned home to Greater Manchester.
Echo the Labrador was greeted by children at Oldham fire station after six months in quarantine.
The six-year-old explored dilapidated buildings still shaking from aftershocks after the devastating earthquake in January.
His handler, Mike Dewar, said he worked relentlessly.
Mr Dewar, dog team manager, conducted more than 40 searches with Echo and said he witnessed some horrific sights.
"It was hard work out there, especially for Echo who was having to cope with having a full winter coat in temperatures reaching 100C (37C)," he said.
"He worked himself to a standstill. After seven days he was suffering from sheer heat exhaustion and we had to put him on a drip for 24 hours."
Next challenge
But a day later Echo was searching a Caribbean market that had been destroyed by the earthquake, which measured at least 7.1 on the Richter scale.
Mr Dewar said: "The market was probably one of the worst places to go searching, Echo was literally having to run over dead bodies as he hunted for survivors."
Echo has returned from quarantine "larger than life", Mr Dewar said, "and is ready for the next challenge".
County fire officer Steve McGuirk added: "It gives us great pleasure to welcome Echo back home.
"I'm sure I will be joined in that sentiment by the team members who worked alongside Echo in Haiti, all personnel in Greater Manchester Fire and Rescue Service and the public of Greater Manchester, who have sent many kind messages of support while Echo was in quarantine."