Liverpool's organised crime gangs 'are arming youths'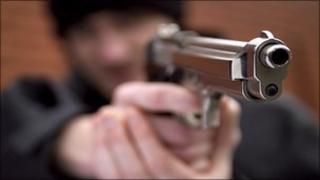 Organised crime gangs are arming boys in Liverpool and encouraging them to get involved in gun crime, a senior Merseyside Police officer has warned.
Det Ch Supt Tony Doherty said some young people had failed to learn lessons from gun fatalities in the city, such as the Rhys Jones killing.
Mr Doherty, head of the Matrix anti-gun unit, was speaking after a 16-year-old boy was shot in Norris Green.
He told the BBC his inquiry into the targeted attack would be "relentless".
The victim was standing outside the Yang Sing chip shop on Scargreen Avenue with four other youths when they were shot at shortly before 2330 BST on Monday.
He suffered a bullet wound to the lower left leg and is being treated in hospital. His condition is not life-threatening.
"I have to say now that the injury, fortunately, is not too serious. He'll need some surgery," said Mr Doherty.
Detectives believe that the gunman travelled down the road on a motorbike before opening fire at the group "absolutely indiscriminately", he told BBC Radio Merseyside.
"We don't know what's behind it but it appears to be a dispute in the area and the first port of call to solve that dispute by these criminals is to resort to firearms," the detective added.
"I don't think some of our young people are learning lessons that we wanted them to learn.. and they are being exploited by the people who are running organised crime enterprises around these areas.
"They find themselves in disputes and I think some of the people controlling them are putting firearms into their possession and actively encouraging this sort of behaviour."
The shooting happened less than two miles away from the scene of the fatal shooting of 11-year-old Rhys Jones, whose killing in August 2007 shocked the country.
Mr Doherty, whose Matrix team has been working to rid the streets of Liverpool of guns, said shootings in the area had dropped by about 30% in the intervening years.
"I don't need to tell you the hard lessons that we've learnt, the community there have learnt, when we allow young men to start shooting indiscriminately across pavements," he added.
"We've taken a lot of firearms out of Croxteth, Norris Green and other parts of Merseyside, but this battle is never over. Every firearm that is on the street is a potential murder weapon and we've got to treat it that way.
"We're going to be relentless in the way we investigate this [latest shooting]. We've learnt some hard lessons there before, we don't intend to let this get out of hand."
Merseyside Police now intend to have a large uniformed presence in the area for at least the next 10 days, which may be extended.
Detectives are continuing to hunt the gunman involved in the attack, and have appealed for witnesses.